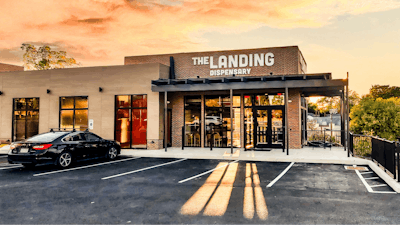 The Landing
In partnership with Firelands Scientific, The Landing Dispensary recently opened its doors in Cincinnati at 4029 Smith Rd. in Norwood.
The Landing offers a lineup of medical cannabis products for patients, including flower, edibles, vapes and concentrates.
The Cincinnati location marks Firelands Scientific's fifth Ohio dispensary and brings its list of locations to ten—the company has five locations in West Virginia.
The Landing locations each draw unique inspiration from the communities they serve and continuously lead the Ohio and West Virginia medical cannabis industry in demonstrating the positive economic, community and societal benefits of safe cannabis normalization. This retail expansion comes at a time when voters will decide the future of Ohio recreational cannabis this November.
"Both Firelands Scientific and The Landing Dispensaries support the citizen-led ballot initiative (Issue 2) to legalize adult-use cannabis," said Jeff McCourt, CEO of Firelands Scientific. "Cannabis is a validly recognized medicine for over 180,000 patients in Ohio, and Issue 2 will greatly expand access to adults and patients alike, who are choosing cannabis as part of a balanced and healthy lifestyle decision, without having to navigate the complex labyrinth of the [Medical Marijuana Control Program] to access their medicine. The MMCP has served Ohio patients well, but we are seeing an increasing number of Ohio adults who aren't able to access safe, legal, affordable medicine and are instead forced to purchase unsafe, completely unregulated "gas-station weed" in the form of Delta 8 or other intoxicating hemp products, or forced to drive to Michigan and illegally purchase products, or worst yet purchase products off the street."
Founded in 2022 by Firelands Scientific, The Landing Dispensaries offer patients premium and practical medical cannabis products and best-in-class service made possible by a staff of extensively trained patient care representatives.