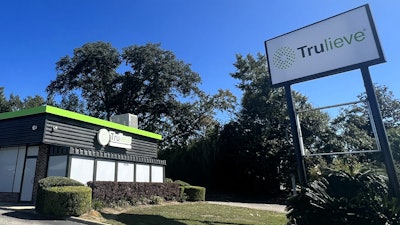 Trulieve
Trulieve Cannabis today announced the opening of a new medical dispensary in Marianna, Florida.
On Saturday, October 28, Trulieve will host a grand opening celebration beginning at 9 a.m. featuring partner giveaways, music, specials, discounts, and opportunities to register for upcoming patient education sessions.
"We are constantly looking for new ways to engage with customers and expand access to cannabis," said Trulieve's Chief Executive Officer Kim Rivers. "This new location makes it easier for patients in the Marianna community to enjoy our superior customer service and top-quality products."
Located along U.S. Highway 90 and less than five miles from Interstate 10, the new Marianna dispensary offers greater convenience to Florida patients and caregivers in Jackson, Washington, and Calhoun counties.
The new location will offer a wide variety of popular products including Trulieve's portfolio of in-house brands such as Alchemy, Co2lors, Cultivar Collection, Modern Flower, Momenta, Muse, Roll One, Sweet Talk and Trekkers. Customers will also have access to beloved partner brands such as Alien Labs, Binske, Black Tuna, Blue River, Connected Cannabis, DeLisioso, Khalifa Kush, Love's Oven, Miami Mango, O.pen, Seed Junky and Sunshine Cannabis, all available exclusively at Trulieve in Florida.
Trulieve offers statewide home delivery, online ordering, and in-store pickup. Veterans receive 20% off every order when they show their military ID, and all first-time guests are eligible for a 60% new customer discount at any Florida Trulieve location.