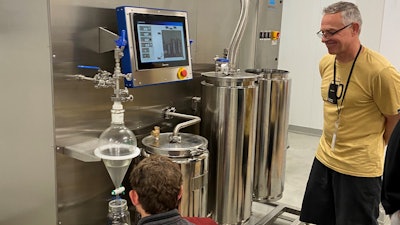 Entexs
Entexs, a California-based extraction technology and equipment manufacturer, recently installed the company's MINI 3 Ethanol Extraction System and Terpene Extraction Module in Southern Crop's facility in Meridian, Mississippi. Southern Crop serves the Mississippi Medical Marijuana Program.
The Terpene Extraction Module uses steam distillation pre-extraction for terpene profile preservation and collection. The MINI 3 closed-loop extraction system can process up to 300 pounds per day and features a hands-free, automated process from biomass to finished full spectrum crude or distillate product with pushbutton control. Fully automated routines allow user customization and complete process control to meet stringent quality requirements.
Watch: Daniel Blackburn: The Extraction Market Should Be Plug-and-Play
Jeff Spinder, director of extraction and manufacturing at Southern Crop, stakes much of the company's success on staying atop new technology. The new system helps produce higher quality products more efficiently, which will help Southern Crop "become leaders in the Mississippi Cannabis market."
Southern Crop received the first cannabis cultivation and processing license from the Mississippi Department of Health for its 175,000-sq-ft Tier 6 cGMP vertically-integrated facility.
Watch: John Davis: Designing Realistic Extraction Systems from a Processing Perspective