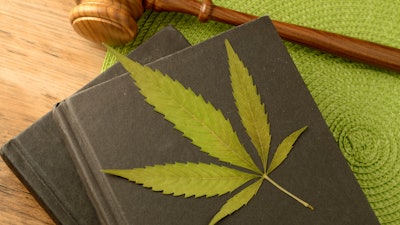 iStock
Verano, a multi-state cannabis company, has partnered in support of The Weldon Project's Mission Green, the non-profit organization's initiative that promotes clemency for cannabis-related offenses. Through this partnership, Verano will initiate a nationwide fundraising campaign on June 3 that will remain active throughout 2022, available exclusively at the ompany's retail locations.
Founded by cannabis advocate Weldon Angelos, who served a 13-year prison sentence for selling less than $1,000 worth of cannabis before being granted clemency in 2016, Mission Green creates pathways for expungement and pardons for individuals convicted of cannabis-related offenses at the state, local, and federal levels. Mission Green also provides legal assistance, re-entry programs and additional support services for formerly incarcerated individuals without access to legal counsel.
Verano's partnership with Mission Green will mobilize employees, patients, adult-use customers and cannabis reform advocates to support the organization's ongoing cannabis social justice initiatives. In addition to its initial $50,000 donation to Mission Green, Verano will also use its extensive retail operations across nearly 100 dispensaries in 13 states to engage and educate dispensary visitors on Mission Green and provide guests with donation and petition information. On the first Friday of each month, Verano will match up to $13,000 in customer donations that will be facilitated exclusively at the company's flagship Zen Leaf and MÜV dispensaries, and additional retail locations it operates across its national footprint.
"As one of the largest multi-state cannabis operators in the U.S., we're proud to partner with Weldon Angelos and the Mission Green team and use our scale to amplify our support for cannabis clemency and continue the fight to repeal the harmful, outdated cannabis laws that have negatively impacted countless communities and individuals for generations," said George Archos, Verano Founder and Chief Executive Officer. "The important work the Mission Green team facilitates in support of cannabis clemency initiatives and advocacy across the political spectrum is essential as we seek to right historical wrongs and create positive, meaningful changes in our society, with the ultimate goal of ending cannabis prohibition."
"By partnering with a respected and established industry leader like Verano, our organization is able to scale up our efforts to further dismantle the countless injustices that persist as a result of cannabis prohibition," said Weldon Angelos, Founder of Mission Green. "We take tremendous pride in joining forces with a team that shares common values and commitments to supporting communities disproportionality impacted by the failed War on Drugs. I believe our donation campaign is essential in galvanizing support from both Verano and Americans across the country who share our vision of supporting and implementing impactful cannabis reform."
Further, Verano will continue supporting The Weldon Project's cannabis reform and clemency advocacy at the federal level. The Weldon Project recently engaged with the White House and senior political leaders regarding clemency initiatives and legislation efforts aimed at creating a path for federal legalization and cannabis banking reform, including the SAFE and MORE Acts. Verano and The Weldon Project encourage advocates to share their support by signing The Weldon Project's Change.org cannabis clemency petition, which also includes an accompanying letter issued to President Biden that is co-signed by an assortment of celebrities, academics, politicians and other notable figures.