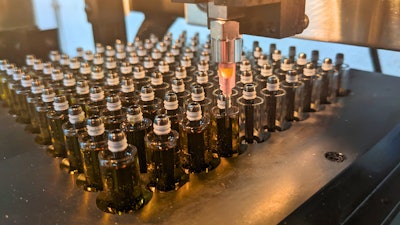 Loud Labs
It's widely recognized that speed and increased throughput on the production floor can positively impact the bottom line of any manufacturing business. Getting more products into the hands of more customers is a primary goal, especially in the growing cannabis vape market.
According to the latest Greentank and Arcview Management Consulting industry report, consumer demand continues to rise across North America, with metrics showing big increases in total vape units sold.
Further research shows that cannabis consumers who vape spend more per purchase than those who prefer flower or edibles. Keeping up with demand means implementing comprehensive and efficient best practices – starting with the production operation.
As a cannabis processing facility, there are several factors to consider when choosing the proper equipment that will help you accurately dispense your valuable cannabis oil into vape cartridges. You want to find a solution that is fast, accurate and efficient, but those are just the basics.
Depending on the size of your business, automatic or semi-automatic machinery can help you streamline operations without overworking your employees. Regardless which solution you choose, consider these key features when making your decisions: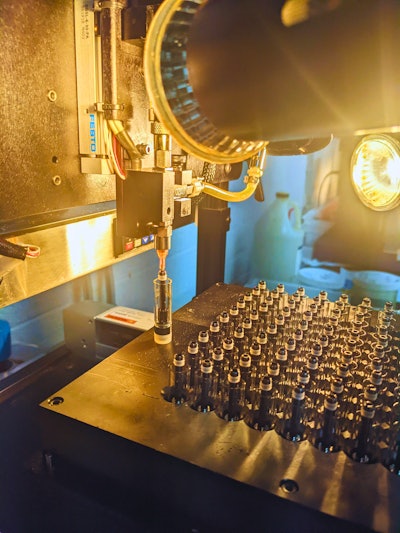 Certified, Verified and Qualified: The right equipment can help to ensure your business is ready for current and future regulations, and possible federal legalization. Look for solutions that adhere to Good Manufacturing Practice (GMP) regulations to guarantee consistent and controlled manufacturing. Many cannabis facilities are now requiring certified, verified and qualified equipment, so it's important to choose equipment that has appropriate certifications so you'll be compliant from the start. For example, the cETLus certification in North America ensures your equipment is compliant with national product safety standards. The cETLus includes UL safety requirements for measurement, control and laboratory use. Meeting GMP requirements with qualified equipment can help make sure that you are growth-ready and compliant not only today, but also as the industry continues to evolve.
Reliable: It is absolutely critical that serviceability is built into the design of any equipment you bring into your processing facility. Selecting equipment that has been expertly engineered with reliable components is a crucial first step toward meeting your production goals. True serviceability empowers users to work on equipment as they are comfortable while also providing rapid and direct access to the OEM and their support team for diagnosis and resolution of technical problems. You will minimize downtime by choosing a manufacturer that supports their equipment with outstanding customer service, parts availability and a commitment to keeping your operation up and running so you can meet even the most demanding production goals.

Scalable: New products are constantly introduced into the cannabis market and if you're filling vape cartridges, you want to be able to provide the latest offerings to your customers, without needing to buy new equipment. Find adaptable solutions that are not tied to any specific cartridge manufacturer, are easily upgradeable and flexible enough to accommodate changes in oil formulations and vape hardware. In addition, you'll want to select solutions that accommodate scalability as your business grows, so you won't need to replace equipment as part of the expansion process.
Continuous improvement: As we mentioned above, significant changes in vaporizer hardware technology and oil formulations are occurring all the time. In such a fast-paced environment, your equipment manufacturer needs: a deep understanding of the cannabis market as a whole; a forward-thinking product development process; and an eye toward future-proofing your business. This attitude of continuous improvement will help your company remain successful, and make your investment work for you in the long run. Look for a partner that has a proven track record of listening to client feedback and directly addressing their needs. It can be challenging to stay relevant when things are moving quickly in an industry like ours, so developing a relationship with a partner that has a focus on the future will help you reach your goals.
The cannabis vape space is ever-changing. It's imperative to choose reliable, durable equipment that can help you stay current with the constant change in the cannabis space. Although it's difficult to predict the future, it's clear that agility is necessary in an evolving, growing and maturing industry.
Choosing certified, qualified, reliable and scalable equipment for your operation will help you be prepared for expansion and future success.
Mark Hoskins serves as Client Services Manager at Thompson Duke Industrial, which provides the leading automated solutions for the cannabis concentrate packaging industry. In his role, he trains and provides ongoing support for clients utilizing Thompson Duke equipment to maximize process efficiencies. www.thompsonduke.com