FloraWorks
Last month, the results of a landmark study showed the potential for a pure form of cannabinol (CBN) to become a major market disruptor in the over-the-counter sleep aid market.
The study was conducted among more than 1,000 participants across the U.S. by clinical-research company Radicle Science. The trial compared the effects of CBN against melatonin and a placebo.
The double-blind, randomized trial was led by cannabinoid therapeutics company, FloraWorks, specifically looking at the effects of the company's flagship product, TruCBN, on sleep.
In this exclusive interview with Cannabis Equipment News, FloraWorks CEO and co-founder Alleh Lindquist discusses the market barriers and regulatory hurdles CBN faces, the other cannabinoids that show promise for therapeutic use and his predictions for the therapeutic use market.
Q: Why did FloraWorks pursue CBN as a potential sleep aid?
A: Sleep issues are dominant in the U.S. and are becoming a bigger public health concern. People's lives are hectic, and most Americans don't even get the recommended seven to eight hours a night that they need for their bodies to repair — over time, that can be detrimental to one's health.
At FloraWorks, we are focused on unlocking the therapeutic potential of rare and novel cannabinoids. While many people have heard of some of the 'rock star' cannabinoids like THC and CBD, there are more than 100 known cannabinoids in the cannabis plant. We are taking a deeper look at rarer cannabinoids' potential in the health and wellness arena, such as how cannabinol (CBN) might be able to help the roughly 60% of Americans who aren't getting enough rest.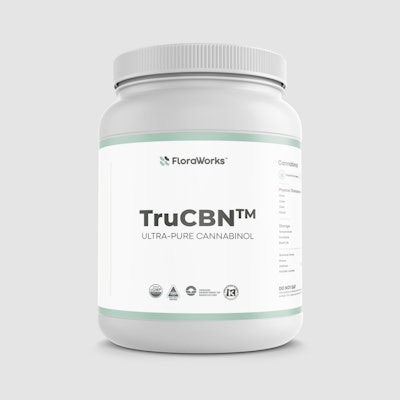 While there has been some anecdotal evidence that CBN works for sleep, we wanted to be the first to conduct a double-blind, randomized, placebo-controlled trial that analyzed the effects of how our product, TruCBN, stacked up against melatonin and a placebo.
We worked with Radicle Science to independently conduct the trial. The historical firsts encompassed in this study have tremendous implications for formulating effective, natural sleep products. The findings especially highlight the importance of using the right amount. For CBN, both too much (100 mg) and too little (25 mg) may have decreased effectiveness.
Q: What barriers to market does the company face, particularly when fighting for shelf space and consumer awareness?
A: Not only do cannabis companies face barriers related to distribution networks, logistics and retailers with limited shelf space, building consumer awareness and generating demand for a new product, but they also face other significant challenges, such as the amount of education that is needed to break through and gain visibility and educate consumers about their product's unique features, benefits and value proposition.
However, regulatory hurdles that need to be addressed are the real beast here. For example, one of the significant obstacles in achieving mainstream consumer acceptance for minor cannabinoid ingredients like TruCBN involves obtaining the New Dietary Ingredient (NDI) filing with the FDA. This serves as a major prerequisite for our products to earn a spot on the shelves of prominent retailers like Kroger or Walgreens.
In order to obtain an NDI filing, you need to follow the guidelines and requirements set by the FDA. The NDI notification process is necessary for manufacturers and distributors who want to introduce a new dietary ingredient into the U.S. market.
The general steps to obtain an NDI filing include:
Determine if your ingredient qualifies as a NDI.

Prepare the NDI notification.

Submit the NDI notification to the FDA.

Await FDA response.

Address FDA concerns and requirements.

Receive FDA acknowledgment.
The filing process can be complex and takes a team of regulatory affairs or legal professionals who specialize in FDA regulations to ensure compliance with all requirements.
Q: How does the company plan to overcome these hurdles?
A: Today, a lot of Americans turn to melatonin or prescription drugs to help them catch some Zs, but both of the latter can cause drowsiness and a feeling of morning grogginess, which can also lead to daytime fatigue or a "hangover" effect. We believe in the power of the plant's potential and that we are uncovering important data that will speak for itself.
The NDI process is data-driven, so I believe if we create a product that is more effective and helps people address their sleep issues, the NDI and opening of the marketplace will follow. Right now, the data is pointing in that direction, and once we have the peer review done, we'll be in great shape to continue to move the ball down the field.
Q: Were the results of the clinical trial unexpected?
A: They were exciting. This is some of the first human data to suggest different amounts of CBN may have different effects on sleep and can be used to inform future studies. It highlights the importance of exploring product formulations in a methodical, clinical manner through randomized, blinded clinical trials.
CBN has a long anecdotal history linked to sleep and sedation. We suspected CBN would be effective, but as the saying goes, you never know until you know. The findings especially highlight the importance of using the right dosage, which we think goes a long way in building consumer trust in the product. We won't just keep trying to sell you a higher dosage.
Q: How is TruCBN manufactured to maintain consistent dosing?
A: TruCBN is produced at FloraWorks' headquarters, which are located in Milwaukie, Oregon. The facilities are designed in accordance with Good Manufacturing Practices (GMP), which not only protects the product from contamination but optimizes the flow of product, reducing labor and waste. We work with other industry leaders, ingredient suppliers and technology companies to incorporate optimized equipment and functional ingredients in our products to maintain our best-in-class reputation.
Our facility is also ISO 9001-certified, which defines the international standard that specifies requirements for a quality management system (QMS) and demonstrates our ability to consistently provide products and services that meet customer and regulatory requirements. Every cannabinoid we create undergoes rigorous in-house analytical testing. We also send all of our products to an independent laboratory to provide Certificates of Analysis (COA), ensuring the highest levels of quality and accuracy.
Q: What other cannabinoids are on your radar for therapeutic use?
A: A variety of cannabinoids have shown potential for therapeutic use, although it's important to note that the evidence is largely based on anecdotal reports and experiences. For instance, THCv is gaining attention as it's being marketed and perceived by users as an appetite suppressant. This preliminary data on THCv for weight management mirrors the early consumer interest we saw in CBN for sleep aid. We are actively researching other cannabinoids, the details of which I'm not at liberty to share at the moment, but we look forward to revealing more in the near future.
Q: Do you use the product?
A: Yes, I have. Thankfully, I am lucky that I don't have chronic sleep issues, but when I have had trouble sleeping and taken it – I had great results. I'm also a huge fan of the combined effect CBN has with THC. Most of our current clients create products combining THC with CBN, so I have tried these products quite a bit and definitely prefer the effect it has. It seems to give the THC a more relaxing and body-high effect. In addition to myself, several folks on the team, including employees, board members, investors and many of our friends and family take CBN for sleep and relaxation and swear by it.
Q: What are your predictions for the therapeutic use cannabinoid market?
A: We are just at the beginning. Given the historic restrictions on cannabinoid research due to its federal legal status, it's clear we are in the foundational stages of what promises to be a rapidly evolving therapeutic landscape. I think it's pretty reasonable to anticipate that the therapeutic cannabinoids market will grow quite significantly for the foreseeable future and that there are many yet unknown mechanisms of action that will lead to new breakthrough therapies.