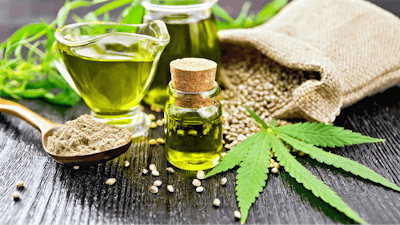 iStock
The cannabinoid manufacturing industry is complex; countless factors go into running a cannabinoid company, manufacturing quality products and delivering those products to the customer. At the end of the day, though, it all boils down to three essential considerations: quality, safety and innovation.
My time as leader of cannabinoid ingredient company Synergy Life Science has taught me firsthand just how important these aspects of the cannabinoid manufacturing industry are — and I want to share what I've learned with you so that you can apply these lessons.
Quality in Cannabinoid Manufacturing
Though it seems like a relatively simple concept, we must carefully define "quality" in cannabinoid manufacturing. Because the cannabinoid industry has so little external oversight, "high-quality" cannabinoids can be challenging to nail down.
First and foremost, high-quality cannabinoids should be consistent. Each batch should contain precisely the same ratio of ingredients. Consumers expect each product to deliver what your company promises; quality assurance is the key to making this happen.
Products should undergo testing at every step to ensure the quality of individual ingredients and final products, similar to the protocol for other sectors; my company follows guidelines akin to those in other precise ingredient manufacturing industries.
Cannabinoid manufacturers can assure consumers of product quality by offering easily accessible and understandable lab tests and certificates of analysis (COAs) to verify the balance of cannabinoids and other ingredients in each product.
Safety in Cannabinoid Manufacturing
Like all consumable products, the safety of cannabinoids is paramount to consumer well-being and experience.
Cannabinoid safety has been a hot topic in recent years, thanks to manufacturers who do not take the time to ensure the quality and safety of their products. Again, this issue has arisen partially due to the lack of oversight in the cannabinoid industry. Until the industry is more regulated, each manufacturer is responsible for ensuring the safety of their cannabinoid products.
Safe cannabinoid products should only contain rigorously-tested ingredients that have proven safe in their intended applications. They should be free from harmful contaminants and consistent across batches.
Cannabinoid manufacturers should follow basic safety manufacturing protocols while producing their products to minimize contamination risk and keep employees safe. Extensive testing by respected third-party laboratories, preferably those specializing in testing cannabinoids and cannabis products, will ensure the safety of cannabinoid ingredients. Again, manufacturers can inform consumers of the results of these tests by offering the data, including test results for common contaminants.
External tests can also help to ensure the safety of cannabinoid products. For example, my company takes the initiative to submit our ingredients and have them generally recognized as safe (GRAS).
Innovation in Cannabinoid Manufacturing
Finally, innovation is essential in the cannabinoid manufacturing industry — especially for companies that wish to impact the market.
Innovation is one of my favorite topics, and it's been a cornerstone of my career. My company has developed several groundbreaking cannabinoid ingredients; watching innovation come to fruition is always incredibly gratifying.
Innovation drives us to improve our products, processes and philosophies when manufacturing anything. Innovative manufacturing creates products that fill a niche, simultaneously improving customers' lives and enriching business.
As business leaders, we can start prioritizing innovation by encouraging our employees. Create a space where your team can share their ideas and emphasize research end development in your day-to-day processes. You can also create innovative products to fit consumer needs. For example, my company recently launched a groundbreaking portable nebulizer inspired by the need for a safe alternative to harmful vapes.
Quality and Safety: Mutual Assurance
Safety and quality in cannabinoid manufacturing are deeply interrelated. High-quality products are safe, and safety measures can help to ensure the overall quality of a product.
The exact mechanism that ensures one can help ensure the other: careful manufacturing practices and rigorous testing will guarantee the quality and the safety of the cannabinoid ingredients you manufacture.
Safety and Innovation: Responsible Growth
The cannabinoid industry is new and exciting, and there is much room for innovation. But remember, research doesn't move as quickly as manufacturing. Safety is innovation's essential balance. Working carefully to ensure the safety of each product before it launches will ensure that we continue innovating sustainably. Because of the lack of governmental oversight in the cannabinoid industry, we are responsible for keeping safety at the forefront of our minds when creating innovative new products.
As business leaders in a new industry, we must help the sector grow and thrive sustainably. If we keep quality, safety and innovation at the core of all we do, we can secure a future for the cannabinoid manufacturing industry that is profitable, well-respected and makes a positive impact on the world.
Chris Gerlach is the CEO of Synergy Life Science. He has worked successfully in the creation, distribution and supply of high-purity, quality ingredients for the last 25 years. Gerlach served in the U.S. Army for 10 years prior to co-founding Essential Ingredients, where he held various positions for the personal care/cosmetic company, including president and director of business development. Most recently, he has turned his attention to breakthrough technology in the rapidly emerging hemp CBD market as the CEO of Synergy Life Science, which offers high-purity formulations, extraction and the manufacturing of ingredients.