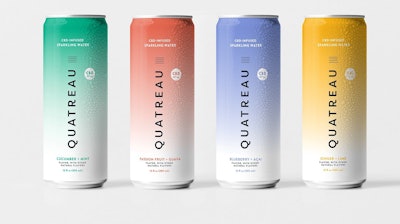 CNW Group/Canopy Growth Corporation
Canopy Growth has launched Quatreau, a CBD-infused sparkling water, in the United States.
The stateside launch follows the successful 2020 rollout of Canopy Growth's CBD-infused beverages in Canada, where Quatreau is now the top-selling ready-to-drink CBD beverage.
Quatreau sparkling water contains 20 mg of premium, U.S. grown hemp-based CBD and one of four refreshing flavors. With an MSRP of $3.99 per 12-ounce can, Quatreau is a functional zero-sugar drink that delivers a natural, low calorie beverage alternative at an accessible price point.
Product SKUs available at launch will include:
Quatreau CBD-infused Sparkling Water in Cucumber + Mint
Quatreau CBD-infused Sparkling Water in Passionfruit + Guava
Quatreau CBD-infused Sparkling Water in Ginger + Lime
Quatreau CBD-infused Sparkling Water in Blueberry + Acai
"We have proven our beverage strategy in Canada, where we are currently the market share leader in CBD-infused ready-to-drink beverages, said Canopy Growth President and Chief Product Officer Rade Kovacevic. "Beverages are fueling growth in the CBD category and we believe this product will resonate with U.S. consumers looking for a naturally flavored, zero sugar option."
Quatreau will be sold on Canopy's U.S. ecommerce destination, www.shopcanopy.com.