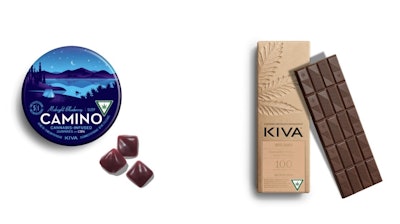 High Life Farms is bringing Kiva's Camino Gummies to Michigan through an exclusive white-label agreement with its long-standing partner, Kiva Confections.
High Life will also help launch two new Kiva chocolate bars in Michigan: Toffee Crunch Dark Chocolate and Raspberries & Cream White Chocolate.
The company currently partners with Kiva to produce its chocolate Kiva Bars and Terra Bites in Michigan through High Life's white-labeling solutions. Per the expanded agreement, High Life will manufacture and distribute Kiva's Camino Gummies in the state of Michigan starting in June, marking Camino's first introduction to the state.
With a two-year head start on most of the competition, High Life has built a distribution network of dispensaries in Michigan to reach consumers across the state.
Camino Gummies will be available in six of its most popular flavors - Midnight Blueberry, Wild Berry, Pineapple Habanero, Sparkling Pear, Watermelon Lemonade, and Wild Cherry - with each package containing 20 servings. The line offers varied cannabinoid ratios and each flavor is made with a unique combination of terpenes for a highly tailored edibles experience.
"Michigan is one of the top five cannabis markets in the U.S., with over 200 licensed retailers and a fast-growing consumer base looking for high-quality products," said Scott Palmer, CEO of Kiva, in a statement. "We're really excited for consumers to discover a new edibles experience via Camino's tailored effects. High Life Farms is one of the leading vertical operators in the state and has an unparalleled reputation for excellence and trustworthiness, making them the perfect partner to bring an expanded offering to Michigan's consumers."
High Life produces Kiva chocolate bars in its cultivation, processing and extraction facility in Chesaning, Michigan.
Made with sustainably-sourced cacao, all-natural ingredients, and locally-sourced cannabis, each Kiva chocolate bar contains 100mg of THC, with each of its 20 pieces containing 5mg THC each.
High Life partners with cannabis brands like Kiva Confections and Wana Brands to bring edibles to market.
High Life plans to expand both its Desert Hot Springs and Chesaning facilities this year to help meet the rising demand for their white-labeling and distribution solutions.