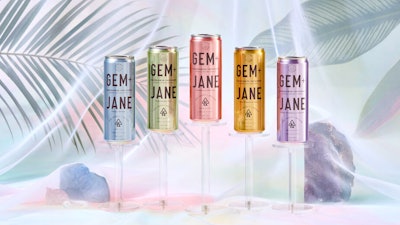 Gem + Jane
House of Saka, producers of cannabis-infused wines from Napa Valley, has secured exclusive, North American rights to produce and distribute Gem + Jane Cannabis-Infused Beverages from Vintage Wine Estates.
The female-targeted beverage was launched by CannaCraft, one of California's largest cannabis companies, in 2021 and this agreement allows the brand to maintain and grow its roots in the cannabis-infused beverage sector. Vintage Wine Estates, which acquired the rights to the brand in 2022, plans to separately launch hemp-derived CBD-infused beverages under the Gem + Jane label in the coming months.
The addition of Gem + Jane to the House of Saka portfolio of brands expands its footprint in the California market and the infused beverage sector overall.
Gem + Jane has more than 200 points of distribution and half a million in retail sales in its first six months in market.
The agreement also denotes a strategic shift for House of Saka, moving from a 'branded-house' operating solely in the luxury, cannabis-infused wine sector to a 'house of brands' operating across multiple functional beverage sectors and verticals.
In partnership with licensed manufacturers, House of Saka plans to go into production with Gem + Jane in June for a July 1 release.