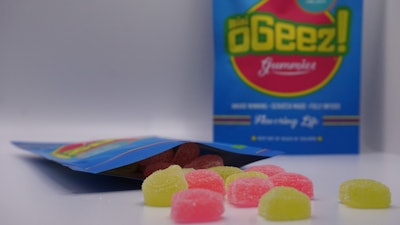 OGeez!
OGeez! Brands, an Arizona-based cannabis infusion company, today launched a new mini gummy.
The gummy debuted on May 3, 2022, at Zen Leaf Dispensaries in Arizona. It will be available to dispensaries statewide beginning on May 12.
The inspiration behind the mini is twofold, the company wants to provide new adult consumers an easier way to enter the cannabis market, and give experienced users a way to microdose to manage pain and anxiety.
"It's time to put away the scissors and kitchen knives and stop cutting larger gummies in half. The industry has come too far for that," said OGeez! CEO Bran Noonan. The CEO is expecting high demand out of the gate.
The minis will be dosed at 3 milligrams a piece with 25 gummies per bag.
The mini will be scratch-made and come in both indica and sativa.
The new mini comes less than seven months after the company launched its RSO gummy. Peg's Raspberry Orange RSO is named in honor of OGeez's late founder, Peggy Noonan, and it's already OGeez's top-selling product.
Bran Noonan took over the company from his mother after she died in April 2021, following a four-year battle with Leukemia.
RSO, more formally known as Rick Simpson Oil, is a specialized full-spectrum form of cannabis oil that encompasses all of the naturally occurring cannabinoids and offers a full-bodied effect.
With Peg's Raspberry Orange RSO, the company took the bitter flavor of an oil that consumers long dabbed and developed it into an easy-to-consume and accurately dosed gummy with the amazing flavor of OGeez's products. The 10-milligram gummy is an ideal fit for all consumers across the market.