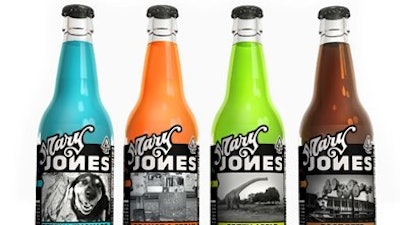 Jones Soda
Jones Soda is expecting overall improvement to its margins as its newly launched cannabis-infused beverage products hit the market.
Mark Murray, president and CEO of Jones Soda, said his company has the manufacturing and distribution partnerships in place for Mary Jones to meet the anticipated high demand.
"We believe our full cannabis product portfolio featuring our 100mg beverage and innovative format edibles will help improve our sales margins, while satisfying consumer and retail demand for products with higher potency, portability and versatility. We intend to continue to establish our position within the cannabis space by expanding into new markets and further developing the Mary Jones brand into a household name," Murray said.
Jones Soda posted a quarterly net loss of $1.4 million, compared to a net income of $0.3 million during the year-ago quarter, on revenues totaling $6 million. The increase in net loss was primarily attributable to the $1.2 million of operating expenses and development costs related to the company's entry into the cannabis sector during the quarter.
But Murray seemed confident that the higher loss was just a temporary setback.
"With the strong foundation that we have built in our core soda business and the foothold we hope to secure in the cannabis market, we expect to continue executing on our turnaround strategy for the remainder of the year," he said.