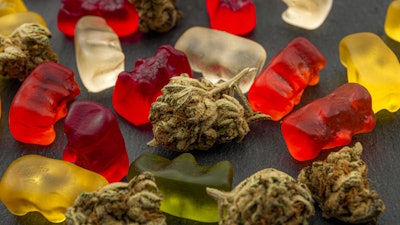 iStock
The New York Cannabis Control Board on Wednesday approved 15 adult-use conditional processor licenses (see list below).
The licenses comprise a key part of the supply chain supporting the opening of New York's adult-use cannabis market through the Seeding Opportunity Initiative.
Through the initiative, processors will take adult-use cannabis currently being grown by New York farmers and turn it into consumer cannabis products. These products will then be sold at New York's first retail dispensaries, through the Seeding Opportunity Initiative's Conditional Adult-Use Retail Dispensary program.
The 15 approved processors include:
ALL IN ONE EXTRACTING & PRODUCT MANUFACTURING LLC
Hemp Hunter Labs Inc., dba Cirona Labs
NYHO LABS LLC
Ithaca Organics, LLC
Lunulata LLC
Phil Spinelli Farrier Service LLC, dba Nightshade Farm
Gen V Labs, LLC
Chocolate Delivery Systems, Inc, dba Create Goodness
NY Hemp Source LLC
NOWAVE LLC
Northeast Botanicals Distribution LLC, dba Bison Botanics
Veterans Holdings, Inc
Jenny's Baked at Home Company LLC
Glenna & Co. LLC
Empire Hemp Co LLC
The conditional processor license was created by legislation signed by Governor Kathy Hochul in February 2022.
To qualify, processors must hold a Cannabinoid Hemp Processor license issued by the Office of Cannabis Management and have applied for the license prior to January 1, 2022. Adult-Use Conditional Processors must participate in a mentorship program meant to provide pathways to industry and entrepreneurship opportunities for social equity applicants and participate in an environmental sustainability program.
The application opened on June 28 and will close August 31, 2022. Applications will be reviewed and approved on a rolling basis.
The Seeding Opportunity Initiative positions equity-entrepreneurs to be the first to make adult-use cannabis sales in New York with products grown by New York farmers.
Under the initiative, licenses would be awarded for conditional adult-use retail dispensaries to equity-entrepreneurs who must meet two prongs of eligibility to qualify. First, they must have a cannabis-related conviction that occurred prior to the passage of the Marihuana Regulation and Tax Act (MRTA) on March 31, 2021, or had a parent, guardian, child, spouse, or dependent with a pre-MRTA cannabis-related conviction in the State of New York. Second, they must also have experience owning and operating a successful business in the State of New York.