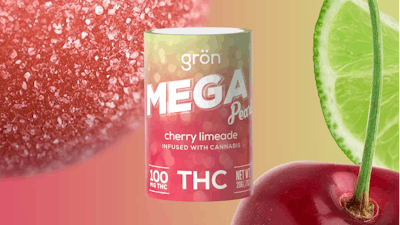 Grön
Grön, a woman-led producer of cannabis-infused edibles, announced yesterday the debut of its sugar-coated gummies at select cannabis dispensaries in Missouri.
The Oregon-based company enters the Missouri medical cannabis market with its Sugar-Coated Pearls and Mega Pearls brands.
Sugar-Coated Pearls are gluten-free, soy-free and infused with full-spectrum cannabis extract. Sugar-Coated Pearls are available in six flavors and ratios, with ten pearls per pack.
Five times larger than Grön's standard Pearls, the Mega Pearl is a single sugar-coated gummy, perfect for customers looking for a high dose of THC in a small package.
Mega Pearls are available in four flavors and ratios.
Grön's handcrafted edibles are available now in more than 30 licensed cannabis dispensaries across Missouri.
Sugar-Coated Pearl Flavors Include:
Best-Selling Blackberry Lemonade - Sleepy Indica with 1:1:1 CBD/CBN/THC
Blueberry Lemonade - Daytime Sativa with 3:1 CBG/THC
Peach Prosecco - Hybrid 1:1 CBD/ THC
Pomegranate - Hybrid 4:1 CBD/THC
Raspberry Lemonade - Sativa
Watermelon - Indica
Mega Pearl Flavors Include:
Blackberry - Sleepy Indica with 1:1 CBN/THC
Blue Razzleberry - Daytime Sativa with 1:1 CBG/THC
Strawberry Habanero
Cherry Limeade
Of interest: Grön is pronounced "grewn."