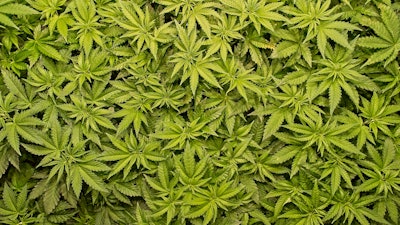 iStock
BioHarvest Sciences revealed the analysis of the unique composition of one of its Bio CELLicitation-based cannabis products that were grown from a CBD hemp plant. The analysis is derived from using industry standard HPLC measurements conducted by an independent third-party analytical laboratory which is ISO17025 cGMP accredited and is certified by the Israeli Ministry of Health.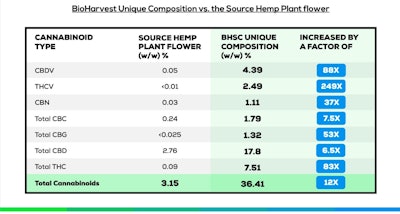 In addition to the Cannabinoids described in the table, the β-caryophyllene, Beta-panasinsene and Selina terpenes were present in the composition.
"The medical establishment has been eyeing the potential of full spectrum cannabis to address many chronic health indications in need of better treatment options. These achievements by BioHarvest in naturally eliciting important minor cannabinoids to significant biologically active levels, combined with high levels of major cannabinoids, all produced with high level of consistency represent a major breakthrough towards the development of efficient cannabis-based botanical drugs," said Dr. Christopher D'Adamo, Director, Center for Integrated Medicine at the University of Maryland, School of Medicine.
Unique scientific, medicinal, and commercial features of this composition:
Increasing the total cannabinoids from 3% in the original plant flower to 36% and increasing THC from 0.09% to 7.5% in the final product (83X) demonstrate the power of BHSC's Bio-Plant CELLicitation technology to control the Cannabinoids levels and ratios in a full spectrum composition. In addition, naturally eliciting rare minor cannabinoids such as CBDV (88X) and THCV (249X) to significant biological active levels in the same composition with high level of major cannabinoids is unprecedented.
Unique composition of significant amounts of major and minor cannabinoids, in a full spectrum form, paves the road for multiple cannabis-based therapeutic solutions targeting key chronic indications such as pain management, anxiety, sleep disorder and ADHD.
The ability to start from a CBD hemp plant and control the THC levels in the final composition would allow BioHarvest to sell unique Hemp-based non-synthetic therapeutic products (including distillates) on a federally legal base in the US. The sales and marketing of such products will take advantage of the already established "Direct to Consumer" commercial platform successfully employed by BioHarvest for its VINIA product. BioHarvest can also target a wider range of health and wellness applications with unique products that combine its polyphenols-based (VINIA, olives and pomegranate) compounds with the hemp-based compositions.