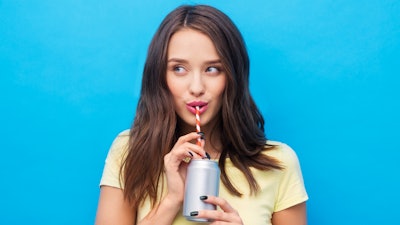 iStock
Cannabis Global, a licensed Los Angeles-based manufacturer and distributor in the cannabis sector, today announced the completion of research and development testing for infused drink straws, which will be introduced to the marketplace over the coming weeks. Cannabis Global has been selected as the manufacturer and distributor for the licensed and regulated California marketplace.
Instead of purchasing a cannabis-infused beverage from a retailer, consumers can buy a straw lined with flavored or unflavored cannabis extracts and then select a beverage of their choice to enjoy a new cannabis experience. As the straw is used, cannabis extracts infuse the beverage at precise dosage levels.
"We have solved several technological challenges in developing our manufacturing processes for this new class of cannabis beverage product," said Edward Manolos, CEO of Cannabis Global. "We are most impressed with the ultra-fast psychoactive uptake times we have been able to achieve, with many users feeling the effects within a few minutes after taking their first sips. Not only do the infused straws provide a powerful cannabis experience, but they also impart great flavors into any beverage. While lemonade, raspberry lemonade, and cherry are the first three flavors, we plan to manufacture many other options over the coming months. We look forward to distributing these products under the Northern Lights and Fun Straw brand names to retailers and delivery services throughout California."
The Cannabis Infused Drinking Straws to be manufactured by Cannabis Global are based on 100% chemical-free cannabis nano-emulsions with fast psychoactive uptake times. Often, the consumer will begin to feel the effects of the cannabis extracts in fewer than 10 minutes. The infusion matrix is based on natural apple pectin combined with tasteless cannabis extracts, making the drinking experience 100% free of unpleasant cannabis tastes.