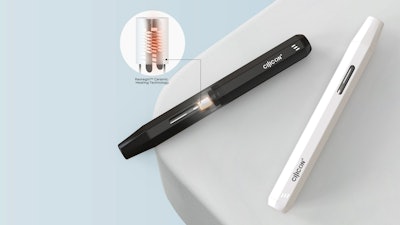 Cilicon
CILICON introduced its first cannabis disposable vape pen with its latest Reoregin ceramic heating technology.
The GLIST Bar1 is equipped with the company's ceramic heating system, a V-shaped oil chamber to save cannabis oil, a snap-in mouthpiece structure that is easier to be assembled manually, and a polyhedron device body that achieves a lower risk of rolling and falling. GLIST Bar1 is a small-volume disposable that is available in both 0.5 mL and 1 mL oil chambers.
It features larger ceramic porosity throughout the ceramic to absorb sufficient cannabis oil in the shortest time—increasing porosity by almost 5%, and a 2.0x2.8 mm hollow cuboid in the middle of the ceramic which is fully inset with a larger mesh heating coil to maximize the actual heating area and reduce air blocking issue in the vaporizing channel—superior efficiency of heat utilization.