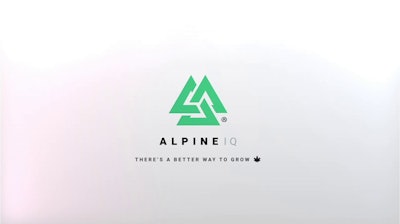 Alpine IQ
Alpine IQ, a data and marketing solutions provider for retailers and brands, today announced an integration with Alleaves, a transparent seed-to-sale tracking and ERP platform. This two-way integration creates an improved experience for retailers and their customers at the point of sale.
"We are proud to partner and integrate with Alpine IQ as a technology partner to help support new clients through our rapid expansion in North America," Alleaves CEO Michael Beedles said in a statement from the company. "Alleaves has always been committed to providing the newest state-of-the-art technology platforms for the industry and supporting the industry with affordable but powerful and best-in-class partners. Our partnership helps provide our new clients that we onboard with easy access to all-in-one seed-to-sale solutions for one of the largest markets in the world. We will always do what is best to service and support our customers and continue to see their operations exceed expectations."
"The Alpine IQ and Alleaves partnership is a revolutionary solution that unlocks the full potential for retail businesses," said Nicholas Paschal, co-founder, and CEO of Alpine IQ. "Our robust suite of tools paired with Alleaves' control, cohesion, clarity, and compliance POS system easily increases the security, success, and efficiency of your sales operations."
The two-way integration between Alpine IQ and Alleaves enables loyalty rewards and discounts to be received and redeemed directly from the point of sale, allows for budtenders and associates to sign up new loyalty members, and provides waiting room queues. This new integration will enable retailers to capture insights and use them to enhance their customer's overall experience.