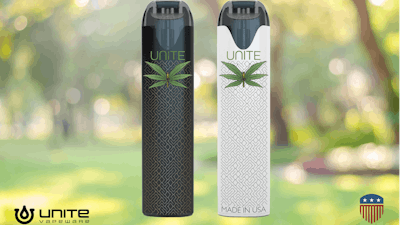 Unite Vapeware
Unite Vapeware, a manufacturer and distributor of cannabis vaporizing devices, announced today the launch its first vape pen manufactured in the USA, with initial release via licensed cannabis lab Pure Ohio Wellness.
Since 2018, Unite Vapeware has aimed to offer customers safe cannabis products at fair prices by managing design, technology, sales, customer support, and fulfillment out of the USA, while having boots on the ground in China to manage its supply chain, manufacturing and quality control.
Now, with the opening of its first manufacturing facility in California, Unite Vapeware is one of the only vape manufacturers that carries all inventory in the USA and to offer local customizations to cannabis consumers.
"We are excited for the cannabis community to truly appreciate and experience the highest quality products manufactured right here in California," said Unite Vapeware President and CEO, Joey Schlaegel. "Our new vape pen demonstrates our team's commitment to innovation. We are consistently striving to raise industry standards and to meet evolving consumer needs."
Pure Ohio Wellness, founded by professional motorcycle rider, Larry Pegram, consists of a Level 1 cultivation facility, two dispensaries and a processing facility. Since inception, Pure Ohio Wellness has been a trusted Unite Vapeware partner.
"Pure Ohio Wellness is committed to improving the lives of Ohio patients by providing only the best medical marijuana products at affordable prices," said Pegram. "To be able to offer a new product that is manufactured in the USA, reassures our team and consumers of its safety and efficiency."