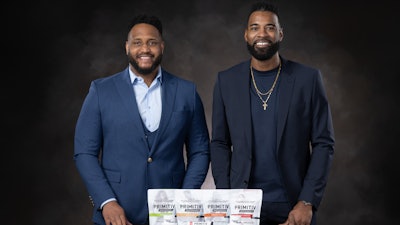 Primitiv
Primitiv, a black-owned Michigan-based cannabis and wellness company co-founded by former Detroit Lions teammates Rob Sims and 2021 Pro Football Hall of Fame inductee Calvin Johnson Jr., today launched Primitiv Performance, a product line designed for during and after a workout.
Developed by former professional athletes, Primitiv Performance uses a proprietary blend of electrolytes, vitamins, and water-mixable nano phytocannabinoids (CBD, CBG, CBC and CBN) formulated to aid in rehydration, recovery, and support the immune system.
Based on their experience in the NFL, Sims and Johnson saw a need for a different kind of elevated wellness in the athletic recovery space. After co-founding Primitiv with the mission of positively impacting the global cannabis industry by changing negative stereotypes surrounding the plant through education and product innovation, the two quickly began working on Primitiv Performance as a phytocannabinoid-infused line of products that incorporate nano-technology designed for faster results. Primitiv Performance's initial products include an oral rehydration electrolyte drink mix in four great-tasting flavors, and a topical cream formulated specifically to reduce inflammation and chronic pain caused by sports injuries and daily wear-and-tear.
"I've long been an advocate of cannabis as a holistic way to help my body recover from the trauma it faced each day on the gridiron and knew there were many other ways to unleash the power of this plant into our daily lives," said Johnson. "Primitiv Performance was designed to showcase these non-psychoactive phytocannabinoids by showcasing them in a way that is familiar to people already incorporating a rehydration drink mix or topical cream into their daily lives, all while further educating consumers about the power of this plant."
"As someone who has turned to cannabis as a natural pain relief remedy for the better part of 20 years, I've seen first-hand how it can change lives for the better and that's why I'm so passionate about educating people who are interested in different solutions to ease what ails them," Sims added. "Our oral rehydration electrolyte drink not only tastes great, but it's packed with 25 milligrams of nano CBD meaning it goes to work faster in the body, and also includes vitamin A and vitamin C to help support a healthy immune system."
Primitiv Performance was developed in collaboration with CYP, a company focused on innovating higher standards of cannabis consumption by developing the fastest acting, most bioavailable, and predictable products to the cannabis and healthcare markets through the integration of its High Performance Nano Emulsion (HPNE) technology.
"Most consumables on the market, whether they are CBD or THC based, can take anywhere from 45 to 120 minutes until the active ingredients fully take effect, which makes it very hard to rely on them as an aid for athletes when they are expecting timely benefits," said James Barr, co-founder of CYP. "The nano technology we use in Primitiv Performance allows consumers to feel the active ingredients shortly after use because the cannabinoids are so small that they mostly bypass the intestinal system and enter directly into the bloodstream, therefore creating a more targeted, predictable, and bioavailable product."