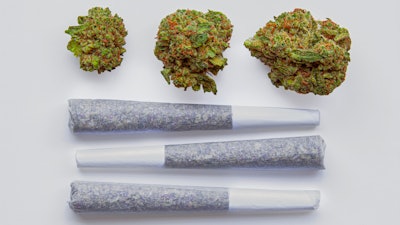 iStock
HEXO has successfully completed the expansion of its straight edge pre-roll production capacity at its Fenwick, Ontario site and will be launching a unique proprietary inhalation technology, intended to improve the cannabis experience.
The development allows HEXO to increase its straight edge pre-roll production capacity, accelerating the delivery of the Redecan Redees products to include the new TnT cannabis strain series and expanding HEXO's Original Stash brand to address rising consumer demand.
Consumers have reacted positively to the new format and strains, and this expansion supports HEXO's continued leadership of the Canadian straight edge pre-roll market.
The Redecan Redees straight edge pre-roll is HEXO's premium pre-roll product and Canada's fastest growing and largest pre-roll in terms of market share. Redees are known as some of the smoothest products on the market and do not have an "after-burn" like many straight edge pre-roll products. Consumers also prefer their ease of use, appealing packaging and convenience over the more common but less consistent commodity cannabis products. Thoughtfully designed with an extra-long filter, tightly packed and offered in a convenient 10-pack, Redecan Redees are the original personal-sized straight edge pre-roll.
Redecan Redees straight edge pre-rolls also now feature a unique inhalation technology, developed through comprehensive consumer research and feedback.
HEXO's flagship Redecan Redees brand is launching several TnT strains throughout the year, including Warlock, Gluberry and Animal Rntz, along with a new 2:1 CBD:THC balanced product, CBD Kush, which offers the benefits of both cannabinoids. The brand will also continue to feature consumer favorites such as the Cold Creek Kush Redees and Wappa Redees. HEXO's Original Stash line will launch its own straight edge pre-rolls, featuring the line's popular Atomik Sour Haze and Powdered Donuts.