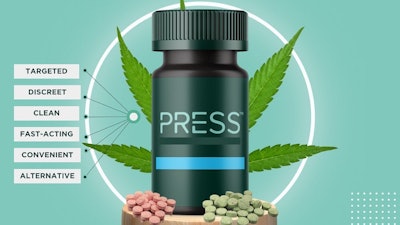 Columbia Care
Columbia Care announced it has launched several new products under its PRESS brand. Three new PRESS 2.0 hard-pressed tablets – Shine, Rally and Doze – are now available across Delaware, Massachusetts, New Jersey, Virginia and West Virginia, with launches in additional states planned, pending regulatory approvals.
"A growing number of patients and customers are looking for a discreet and reliable way to consume cannabis – which is exactly what our PRESS brand offers," said BJ Carretta, SVP of Brands, Columbia Care. "PRESS 2.0 goes a step further by offering patients and customers the opportunity to explore three consciously crafted formulations with a range of THC to CBD, or THC to CBG ratios, plus functional ingredients. Through these new formulations, PRESS 2.0 is able to offer a wider selection to patients and customers who are seeking to integrate cannabis into their everyday routines, from morning until night. PRESS 2.0 is a testament to Columbia Care's ongoing innovation and drive to serve medical and adult use consumers across our diverse portfolio of states. We look forward to bringing PRESS 2.0 to additional markets."
PRESS 2.0 was created as a portable, convenient, and discreet option. All three new products feature fast-acting cannabis and special formulations designed for morning, afternoon, and night routines: Shine tablets include CBG, green tea extract, turmeric and vitamin C to fine tune your morning; Rally tablets are made with CBG, turmeric and vitamin B12 for the afternoon slump; and the Doze tablets feature CBD and magnesium to wind down your day.