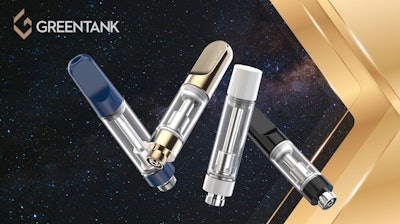 Greentank
Greentank Technologies closed a $16.5 million Series B financing round, inclusive of a $14.5 million equity investment led by a strategic investor group with more than 15 years of manufacturing experience and Organigram Holdings, a licenced producer of cannabis.
An additional $2 million of debt financing was provided by existing shareholders. Total investment in Greentank to date is now $38.5 million. This latest round will fuel the commercialization of Greentank's proprietary technology, which is expected to launch later this year and serve multiple markets beyond cannabis.
Over the past three years, the company has invested in developing heating technology that will expand its reach beyond cannabis to serve the broader vape category including nicotine, e-liquids, pharmaceuticals and more. These technology advancements open Greentank to a much larger market opportunity. Funds raised will be used to commercialize and manufacture Greentank's new technology at scale.
"We firmly believe our technology advancements will change the entire landscape of the global vape industry for the better," says Greentank co-founder and COO Corey Koffler. "We have spent the last three years investing significantly in R&D and building out our talent and knowledge of material science, with a primary focus on creating a new generation of heating element. This financing, along with several major strategic partnerships, is clear validation of the technology and the opportunity in front of us."
"Our state-of-the-art heating technology, entirely designed, owned and manufactured by Greentank, moves away from the traditional ceramic and wicked coil systems commonly used in most vaporizer products today. Most importantly, it sets a new standard of safety across the entire industry given the use of high-purity (greater than 99.99%) biocompatible materials" says Greentank co-founder and CEO Dustin Koffler. "Our technology elevates the overall consumer experience by generating unique aerosols which can efficiently deliver consistent performance, increased potency, and superior flavor from start to finish."