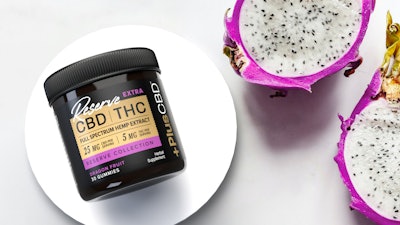 CV Sciences
CV Sciences, a consumer wellness company specializing in hemp extracts, today announced the launch of +PlusCBD Reserve Collection Extra Gummies, the latest addition to the company's +PlusCBD product line.
The +PlusCBD Reserve Collection product line offers a curated blend of full-spectrum cannabinoids with rich and bold profiles that elicit feelings of relief and calm when intense support is needed. +PlusCBD Reserve Collection Extra Gummies are formulated for consumers looking to make the most of their CBD with THC, containing 25mg of CBD and 5mg of THC per gummy—twice the amount of THC than in the original Reserve Collection gummies. The new variant supports healthy sleep, faster recovery, deeper relaxation and a brighter mood.
+PlusCBD Extra Gummies feature a sugar coating with a dragon fruit flavor, sweetened with organic cane sugar. Additionally, +PlusCBD Extra Gummies are manufactured utilizing clean CO2-extracted hemp and flower grown without pesticides or GMOs. The gummies are gluten-free, soy-free and vegan, made of only the finest ingredients.
"Whether a consumer wants to target sleep with CBD, steer clear of THC entirely or combine both, CV Sciences creates products for every preference to facilitate customizable wellness routines," said Joseph Dowling, CEO of CV Sciences. "The +PlusCBD™Reserve Collection Extra Gummies are a smart choice for those seeking a bit more THC in their micro-dose. We look forward to seeing consumers incorporate our Extra Gummies into their regimens as more and more discover the power of cannabis to improve your daily life."
The Reserve Collection Extra Gummies join +PlusCBD's impressive portfolio of products that suit a variety of needs and preferences, including Calm and Sleep Gummies as well as Daily Balance Full Spectrum Softgels. All gummies are third-party lab tested to verify safety and consistency for daily use.