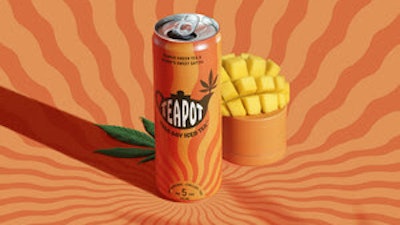 TeaPot, the cannabis-infused iced tea beverage brand that is a direct subsidiary of The Boston Beer Company, has announced the launch of its newest flavor, Mango Green Tea.
TeaPot is made with real tea and infused with Pedro's Sweet Sativa, a cannabinoid-rich cultivar distributed exclusively by Entourage Health under the Color Cannabis adult-use brand.
Each 355 ml (12-ounce) can of TeaPot Mango Green Tea contains 5 mg of THC, is non-carbonated and is formulated to minimize any cannabis taste or aroma.
TeaPot's Mango Green Tea will debut in Ontario, Manitoba and Saskatchewan throughout May and is available for purchase at select cannabis retail outlets and online.
TeaPot is produced at Peak Processing Solutions in Windsor, Ontario and distributed by Entourage Health in Aylmer, Ontario.