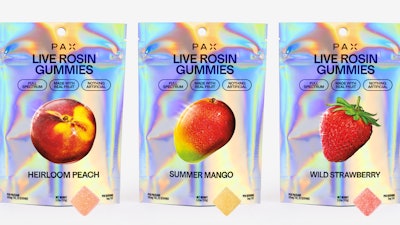 PAX
PAX announced the expansion of its cannabis portfolio to include the brand's first edible THC product. An established leader in the vaporization category for more than a decade, PAX's entry into cannabis-infused gummies provides consumers with an extended set of offerings that deliver on the high level of quality and consistent experience for which the brand is known. PAX Live Rosin Gummies are crafted from real fruit without solvents, artificial flavors or colors, and are vegan and gluten free.
PAX Live Rosin Gummies deliver consumers with a naturally balanced, full flower experience, made with full spectrum live rosin — the purest cannabis extract, rich in cannabinoids, terpenes and other whole plant compounds. Developed with a team of chefs, food scientists and culinary innovators with a passion for delicious, natural and sustainable products, our hand-molded gummies were kitchen-tested in small batches to perfect flavor and texture profiles.
Leveraging all natural ingredients including real fruit, PAX Live Rosin gummies are available in three unique flavors to celebrate the refreshing tastes of the season, including Heirloom Peach, with a guava note for added complexity and balance, Wild Strawberry, with a hint of lemon for a nostalgic nod to strawberry lemonade, and Summer Mango, with notes of lime for an unexpected depth of tropical flavor.
PAX Live Rosin Gummies will launch in Massachusetts in June, with each individual serving package featuring 5mg THC and each package containing 20 servings for a total of 100mg THC. PAX Live Rosin Gummies start at $28 MSRP, and consumers can find a retailer on pax.com. PAX Live Rosin Gummies will roll out to California, Colorado and New York later this year.