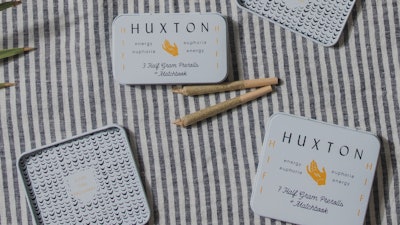 Huxton
Arizona-based cannabis brand HUXTON announced an expansion into Missouri. HUXTON products will be available later this month for purchase at select GOOD DAY FARM dispensary locations, through an exclusive retail partnership. HUXTON's offerings have been brought to Missouri in partnership with CAMP Cannabis.
HUXTON is best known for their simplified cannabis offerings available in three unique blends. RISE is a sessionable blend designed to keep you uplifted and productive; HIFI offers a potent ride that combines energy with euphoria; and ZEN is a smooth harmony of relaxation and rejuvenation. Their pre-rolls, budlet tins and single strain genetics will be available soon for purchase. CAMP Cannabis, one of the most respected wholesalers in the Missouri market, is licensed to manufacture, distribute and sell HUXTON's line of cannabis products throughout the state.
"We couldn't be more excited about entering the Missouri market especially with recreational cannabis recently coming online," says Dustin Johnson, Co-Founder of HUXTON. "We see a lot of similarities in the Missouri market as we did in our home market of Arizona and are confident that through our partnership with CAMP we can make a big impact."
HUXTON products were designed to simplify the consumer experience with labeling by effect, instead of plant type. Each product features sustainable, pocket-sized packaging including pre-rolls that come with a custom ashtray and book of matches. Each blend is comprised of hand-selected genetics that provide consumers with a consistent experience.