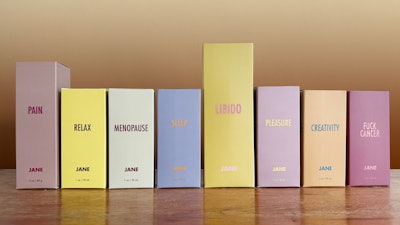 Jane
JANE, a low-dose cannabis brand helping women manage menopausal symptoms and other health challenges, today unveiled its inaugural nine-piece, direct-to-consumer product line. JANE's hemp-derived tinctures, topicals, and vape products are now available via shipping in all U.S. markets, excluding Oregon, Washington, North Dakota, Idaho, and Colorado.
Founded in March 2023, JANE is one of the first mission-driven brands coming to market with low-dose, hemp-derived cannabis products addressing women's health issues including insomnia, stress, low libido, menopause and more. The brand's founder and CEO Michelle Courtright, is driven by her desire to educate women on the benefits of cannabinoids and become a trusted partner in the alleviation of symptoms. Courtright was diagnosed with breast cancer in 2017 and used cannabis to help with her pain relief, insomnia and early-onset menopause.
JANE employs a proprietary THC/CBD blend that separates its products from other Delta-9 products on the market. The line features nine products: Sleep, Pain, Relax, Creativity, Menopause, Libido, Pleasure, Appetite and 'F*ck Cancer' - a portion of the proceeds of which will benefit cancer support organizations.
"Whether it's hot flashes or insomnia, women are always searching for ways to manage perimenopause and menopause symptoms, as they greatly impact our lives," said Courtright. "I began experimenting with low-dose cannabis while going through chemotherapy. Over time, I realized I could microdose to help treat pain, nausea and insomnia without using traditional pain medication. Through JANE's low-dose products, I hope to help other women manage the symptoms associated with breast cancer, perimenopause, menopause and beyond."