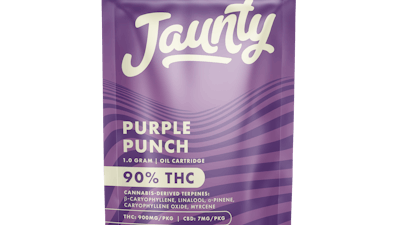 New York-based cannabis brand Jaunty last week released Jaunty Vapes Version 2.0, updated and innovative vapes developed through consumer feedback. The second iteration of the company's "classics" line of cannabis cartridges offers improved purity and potency along with new terpene blends, strains and enhanced hardware.
Jaunty 2.0 is a signature house brands of Naturae, one of New York's leading companies licensed for all adult-use cannabis supply chain activities outside of retail.
Working out of a state-of-the-art facility in Hoosick Falls, Naturae uses is the largest producer of CO2-extracted cannabis oils in the state.
Jaunty 2.0 features:
Improved purity and potency of CO2-extracted cannabis oil--Naturae upgraded its filtration process.

A potency increase from 85% THC to 90% THC.

New proprietary blends of cannabis-derived terpenes to deliver true-to-strain flavors and effects profiles.

Updated stainless steel hardware for better flavor retention and vapor production.

Three new flavors and strains to choose from: Kush Mints, Sour Diesel, and Wedding Cake.

Availability in three Sativa 1G cartridges, three Hybrid 1G cartridges, and three Indica 1G cartridge.
For more information, visit https://jaunty.com/ or https://naturaenewyork.com/.