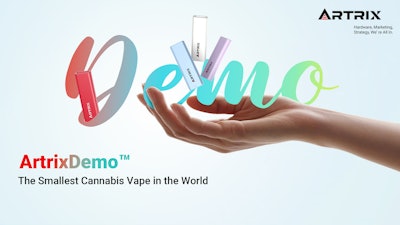 Artrix
Artrix today launched the ArtrixDemo, a new 0.1g device the company says is the world's smallest cannabis vape.
According to the company, the product begins an era of 'sample economics' in the cannabis vape consumer market.
Demo has been designed to meet the four most essential consumer needs in purchasing a cannabis vape pen: ease of use, flavor, discreetness and portability. The new product aims to tackle customer hesitation in trying new cannabis concentrate products and alleviate the costs of market expansion for cannabis vape companies and multi-states operators.
"DEMO is the smallest cannabis vape on the market, measuring only about 5cm in length and weighing less than 8g," said Jessy Chen, chief product officer at Artrix. "It feels like an AirPods earbud, incredibly lightweight and compact."
According to Chen, the company conducted extensive research on the consumption habits of the majority of cannabis vaporization consumers. He says average cannabis vaporization consumers take around five-to-nine draws per day, and the 0.1g capacity allows for approximately eight draws.
Amid a steep decline in the survival rate of new products in the current cannabis vape market, Demo can offer cannabis entrepreneurs a product solution of sample economics to test the market receptivity of new products and a diversified promotion strategy for the final product success.
"Sample economy has been well-proven in other fast-moving consumer goods sectors, particularly in online-store or in-store sales," said Jessica Min, chief business officer at Artrix. "Shopping small sample can effectively increase sales volume, customer retention and also help attract new customers and agents."
Demo is now available to customers in the United States, Canada and internationally.