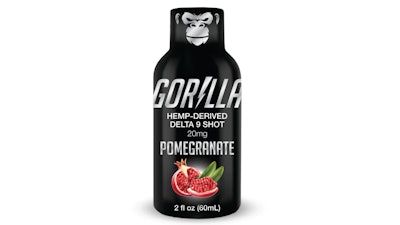 Gorilla Lifestyle
Introducing Gorilla Energy Shots and Gorilla Gummies, the debut products from Gorilla Lifestyle. The company said it is poised for widespread retail availability at affordable prices in almost every U.S. state.
"We are excited to launch our Gorilla Lifestyle collection and share our passion with a wide community," said Karan Raina, CEO and Co-Founder of Gorilla Lifestyle. "We have a commitment to our consumers, to help them live a well-balanced life. This commitment touches every product we develop, how we develop them, why we develop them, and how each product feels, tastes, and works. By combining efficacy with taste, value, and a bold look, we're bringing the very best quality to a lifestyle that draws inspiration from our own experience and those of our customers. From listening to music, focusing on a project, having a night out or just unwinding after a long day, we want to enhance the quality of everyday experiences."
Gorilla Hemp-derived Energy Shots, for instance, are available in four cannabinoids including CBD (20mg), Delta-9 THC (20mg), HHC (20mg), and THC-O (20mg) and five flavors including grape, orange, strawberry- watermelon, berry blast and pomegranate.
Gorilla Gummies are available in the same four categories, with tasty flavors including watermelon, peach, and blueberry rings, with more on the way.