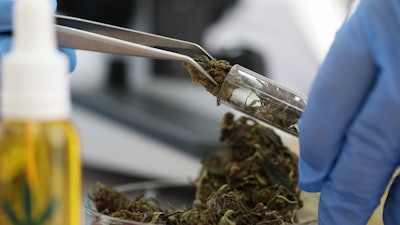 iStock
ASTM International Technical Committee D37 on Cannabis is pleased to be sponsoring the first global Workshop on Measurement of Elemental Contaminants in Cannabis/Hemp Consumer Products.
To view the technical program, click here.
Heavy metals are a known consumer safety hazard that are largely not being addressed by the cannabis/hemp industry. Currently four (4) heavy metals (Pb, Cd, As, Hg) are required by thirty-six (36) states in the United States and Canada where consumption of cannabis/hemp consumer products for various purposes is legal.
However, there is compelling evidence in the public domain that at least another 10 elements could be of potential concern derived from the cultivation process and growing environment including soil, grow medium, fertilizers, nutrients, water, and growth enhancers etc.
In addition, the manufacturing of various cannabinoids can also lead to a further increase of these elemental contaminants through the processing, extraction, purification, packaging, dispensing systems, and device hardware, which can represent significant safety risks to consumers.
This workshop will provide a broad perspective and awareness of the current knowledge of elemental contaminants in cannabis/hemp consumer products, communicate their significance, and as a result, educate users, cultivators, processors, testing labs, and regulators within the cannabis/hemp community of their potential risk.
The following topics will be addressed:
The most current research detailing the mechanisms for metal uptake into a cannabis plant based on growing conditions and soil chemistry.
Optimization of analytical methodology used to measure heavy metals in cannabis/hemp consumer products.
Lessons learned from regulating heavy metals in drug products and using a scientifically risk-based approach to predict elemental impurities derived from the manufacturing process.
Toxicological impact of heavy metals and the industry's responsibility for ensuring consumer health and safety.
The current state of the art research in phytoremediation and phytoextraction techniques.
The most recent research in characterizing elemental contaminants in vaping liquids and aerosols produced by electronic nicotine delivery systems (ENDS) and electronic cannabis delivery systems (ECDS).
As this is the very first global workshop dedicated to the measurement of heavy metals contaminants in cannabis/hemp consumer products, it promises to be a truly groundbreaking event. Submissions for presentation have already been received from CDC, FDA, NIST, and USP, so the event should not be missed if you want to hear all the latest cutting-edge research on this critically important topic.
For technical questions, please contact Workshop Chair Robert Thomas, CSci, CChem, FRSC at [email protected].
To register, and for more information about the workshop please visit: http://www.astm.org/D37MetalsWorkshopRegJune2021.