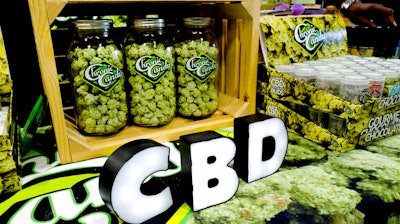 AP Photo/Richard Vogel, File
Legislation introduced Wednesday in the U.S. Senate would subject CBD to the same federal regulations as other legal food products and dietary supplements, proponents said.
U.S. Sens. Ron Wyden and Jeff Merkley, both Oregon Democrats, and Rand Paul, a Kentucky Republican, said although federal law prohibits new ingredients from entering the market if they have been studied or approved as a drug, the U.S. Food and Drug Administration has the authority to approve exemptions — but has not done so in the case of cannabidiol derived from hemp.
The bill, the authors said, would enshrine that exemption in law and enable the FDA to regulate CBD just like any other legal ingredient. It would also apply federal regulations to CBD manufacturers and require proper labeling of CBD products.
Congress legalized hemp and hemp-derived products in the 2018 farm bill, and CBD is increasingly common in a wide variety of food and beverage products — although studies questioned whether many of those products actually contain the compound.
The Hemp Access and Consumer Safety Act, the authors said, would ensure hemp farmers are treated fairly and consumers are protected. Both, Wyden said in the announcement, currently operate in a "regulatory gray zone."
"Hemp-derived CBD products are already widely available, and we all need FDA to issue clear regulations for them just like they do for other foods, drinks and dietary supplements," Merkley added.
The National Industrial Hemp Council said the lack of proper regulations for CBD cost the U.S. economy roughly $15 billion last year.
"If the FDA can't act, Congress should fulfill its oversight role and pass this legislation," said NIHC Board Chairman Patrick Atagi.
House lawmakers reintroduced similar legislation to authorize CBD as a food ingredient earlier this year.