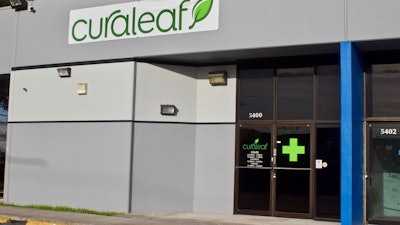 iStock
WAKEFIELD, Mass. -- Curaleaf Holdings Inc. has entered into a definitive agreement to acquire Tryke Companies, dba as Reef Dispensaries, a privately held, vertically integrated multi-state cannabis operator, in a cash and stock transaction valued at approximately $286 million.
The transaction is expected to close in the second half of 2022, subject to customary approvals and conditions.
Under the terms of the agreement, Curaleaf will pay $40 million in cash at closing, with a remaining $75 million in cash to be paid in equal installments on the first, second and third anniversaries of the closing. The stock portion of the transaction, which consists of 17 million subordinate voting shares of Curaleaf, will also be paid in three equal installments on the first, second and third anniversaries of the closing. An incremental earnout of up to 1 million Curaleaf shares may be paid in 2023 based on the business exceeding certain EBITDA targets for the year 2022.
Founded in Arizona in 2014, Tryke has focused on growing and producing the finest and most consistent cannabis products on the market. The company helped pioneer Nevada's legal cannabis market from its inception in 2015, and continues to lead the industry in Utah, where it has worked since 2019 to help establish the state's medical cannabis program. Tryke has refined processes to craft an ever-evolving selection of products and brands at multiple price points. The company's dispensaries have served more than 7.6 million customers, offering a wide variety of in-house and third-party flower, concentrates, vape cartridges, edibles, topicals and CBD products.
Upon closing, Curaleaf will assume ownership of Tryke's extensive portfolio of processing licenses and expects to significantly expand its cultivation capacity from 30,000 square feet to over 80,000 square feet over the next three years.
"On behalf of the board of directors and management team, I look forward to welcoming Tryke to the Curaleaf family as we expand our offerings and operations and bolster our competitive position in three key growth markets," said Boris Jordan, founder and executive chairman of Curaleaf. "We believe that Tryke represents a unique opportunity to join forces with another industry leading pioneer that shares Curaleaf's commitment to legalization and expansion. This strategically and financially compelling transaction will expand our U.S. presence by bringing additional premium products to our consumers and retailers in Nevada, Arizona and Utah, all while yielding meaningful benefits for all of our stakeholders. We expect the acquisition to be immediately accretive to our EBITDA margins and free cash flow generation upon closing."
"This is a tremendous opportunity for Tryke and, as a combined entity, we will continue to deliver significant value for our consumers and retailers in Arizona, Nevada and Utah," said Adam Ryan, chief executive officer of Tryke Companies. "As a part of Curaleaf's growing network of dispensaries, Tryke is excited to bring its full suite of multi-price point products to an expanded base of consumers across the country. We are excited to join forces with the industry leader at such a pivotal moment in the United States' legalization efforts. We share Curaleaf's optimism for the future and are excited to become investors alongside the Company's talented leadership team."