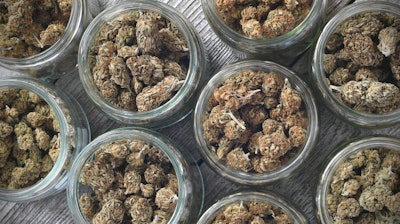 iStock
Tilray Brands has closed its previously disclosed acquisition from HT Investments of the secured convertible note issued by HEXO Corp.
Tilray acquired the HEXO Note for CAD$155 million, reflecting a 10.8% discount on the outstanding principal balance.
The conversion price of the HEXO Note of CAD$0.40 per share, implies that, as of July 11, 2022, Tilray Brands would have the right to convert into approximately 48% of the outstanding common stock of HEXO (on a non-diluted basis).
Tilray has nominated two directors to HEXO's board of directors and one board observer.
"We are excited to close on this strategic transaction and alliance with HEXO, which is expected to provide several financial and commercial benefits, including substantial cost-savings synergies, increased strength in product innovation to capitalize on for market opportunities in Canada and internationally, along with the U.S., upon federal legalization. This is a unique opportunity to realize our vision to enhance consumer experience and lay the groundwork for the next evolution of Canadian cannabis," said Irwin D. Simon, Tilray Brands' Chairman and CEO.
"Closing this transaction with Tilray will provide HEXO with the financial flexibility needed to accelerate our operational turnaround and put us on the path to profitable growth. We are confident that the savings and production efficiencies we are able to realize between the two companies will reset the industry," said Charlie Bowman, HEXO's President and CEO.
Tilray and HEXO also entered into certain commercial agreements where each party will complete production and processing as a third-party manufacturer of certain products for the other party; HEXO will source its cannabis products for international markets, excluding Canada and the U.S., from Tilray; and HEXO and Tilray will share savings related to specified facilities optimization activities, procurement, general and administrative costs, including insurance and certain shared services, and certain production and processing activities for straight-edge pre-rolls, edibles and beverages.
The commercial agreements further provide that HEXO will pay Tilray an annual fee of $18 million for advisory services with respect to cultivation, operation and production matters.