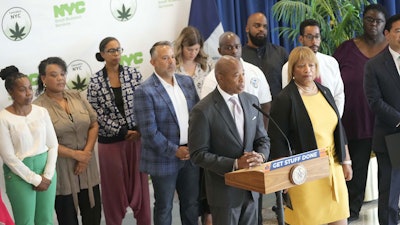 NYC.gov
New York City Mayor Eric Adams and New York City Department of Small Business Services (SBS) Commissioner Kevin D. Kim announced the launch of Cannabis NYC, an initiative and suite of services to support the equitable growth of the cannabis industry in New York City.
Housed at SBS, Cannabis NYC will support cannabis entrepreneurs and their workers as the industry develops. The initiative will work with industry stakeholders to create jobs, successful small businesses, and sustainable economic opportunities, while also addressing the harms of cannabis prohibition. Cannabis NYC services will also include the city's first-ever technical assistance for cannabis license applicants, as well as other business services to take entrepreneurs beyond licensing to a thriving operation.
The first phase of Cannabis NYC will focus on ensuring that justice involved New Yorkers are able to apply for and secure retail licenses from the state. As legal cannabis businesses open their doors in the coming years, the initiative will expand to include a broad suite of business and technical support services tailored to the industry, as well as networking opportunities and efforts to establish Cannabis NYC as a global brand. The city is also exploring how to best connect cannabis entrepreneurs who may struggle to access traditional business capital with financial support.
Not only will Cannabis NYC boost the city's economy and provide New Yorkers with new job opportunities, but it will also do so while addressing the harm done to Black and Brown communities during cannabis prohibition. The expected size of New York City's emerging regulated adult-use cannabis will be historic, with estimates of up to $1.3 billion in sales by 2023, and between 19,000-24,000 jobs created over the next three years.
Over the next month, New York State's Office of Cannabis Management will accept applications for Conditional Adult-Use Retail Dispensary (CAURD) licenses to be distributed to qualifying businesses owned by justice-involved individuals or their parent, legal guardian, child, spouse, or dependent. CAURD licensees will be positioned to be the first legal cannabis retailers open in the state, setting an equitable foundation for the adult-use cannabis market from the outset.
To advance the state's ambitious equity goals and help New Yorkers interested in applying for CAURD licenses, Cannabis NYC will provide:
Application Support: Answer questions about CAURD application requirements, hold educational webinars, and work with license applicants to complete the application during the month-long application period from August 25, 2022 – September 26, 2022.
Support Beyond the License: Connect aspiring cannabis entrepreneurs to no-cost services, along with technical assistance, to support successful businesses.
Long-Term Industry Support: Expand programming as the industry grows to connect New Yorkers to good jobs and build strong businesses in the cannabis industry, as well as ancillary industries that do not "touch the plant."