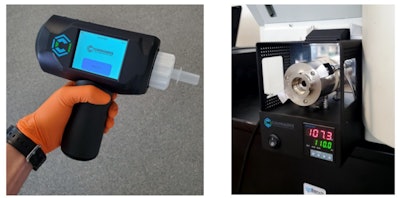 Cannabix
Cannabix Technologies has entered into a memorandum of understanding with the Warren County, Pennsylvania, District Attorney's office to pilot the company's technology for detection of ∆9-tetrahydrocannabinol (THC) and in human breath.
The company's proprietary breath capture and laboratory-based marijuana detection equipment will be used to collect and confirm THC in breath samples. Cannabix plans to supply two handheld Breath Collection Units (BCU) to Warren police before the end of the year and such devices will be used in Warren County at the discretion of its police force for up to 3 months or longer. The Cannabix BCU can be used to collect time of stop breath samples immediately upon suspicion of cannabis use by a driver. Field Samples collected using the BCU by Warren police (and Drug Recognition Experts) will be processed at a designated laboratory using proprietary "MS Breath Sampler" hardware.
The Cannabix BCU will provide quick and nonintrusive breath sample collection and analysis with no sample preparation needed in a lab setting using the Company's "MS Breath Sampler" hardware. In comparison, existing and legacy breath and saliva testing procedures require several sample extraction and preparation steps prior to analysis, and analysis itself can take from 1 - 3 hours per sample. This is expensive and impractical. Also, existing and legacy breath and saliva testing procedures tend to have inefficient, time-consuming collection methods, and recoveries are still often poor. Cannabix has developed unique approaches to breath testing that will reduce costs and make operations and processes far more efficient.
Although the company has achieved proof of concept prototype for its BCU and MS Breath Sampler, the testing method and device is still in the pre-approval stage and accordingly the company is not currently making any express or implied claims that the technology will proceed to commercial use.