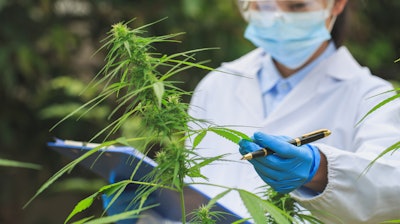 iStock
President Joe Biden on Friday officially signed a cannabis research bill into law.
H.R. 8454, the "Medical Marijuana and Cannabidiol Research Expansion Act," establishes a new registration process for conducting research on marijuana and for manufacturing marijuana products for research purposes and drug development. The bill was introduced earlier this year by Representative Earl Blumenauer (D-OR).
The bill establishes a new, separate registration process to facilitate research on marijuana and directs the Drug Enforcement Administration (DEA) to follow specified procedures to register practitioners to conduct marijuana research, and manufacturers to supply marijuana for the research.
The bill also allows certain registered entities to manufacture, distribute, dispense, or possess marijuana or cannabidiol (CBD) for the purposes of medical research.
Cannabis Caucus Co-Chairs Blumenauer, Barbara Lee (D-CA), Dave Joyce (R-OH) and Brian Mast (R-FL) issued a joint statement after Biden signed the bill.
"For decades, the federal government has stood in the way of science and progress—peddling a misguided and discriminatory approach to cannabis. Today marks a monumental step in remedying our federal cannabis laws. The Medical Marijuana and Cannabidiol Research Expansion Act will make it easier to study the impacts and potential of cannabis.
"Research is foundational for the path forward on cannabis policy. Research is essential to better understand the therapeutic benefits of cannabis that have the potential to help millions of Americans struggling with chronic pain, PTSD, multiple sclerosis, anxiety disorders and more.
"We celebrate the enactment of this critical and long-overdue legislation, and we know there is much more to do to remedy the ongoing harms of the failed war on drugs. Our caucus will continue working to reimagine the federal government's approach to cannabis and enact further reforms. In the coming weeks, we are committed to passing subsequent bipartisan, common-sense proposals like the SAFE Banking package, the Veterans Equal Access Act, the PREPARE Act, and the Veterans Medical Marijuana Safe Harbor Act."