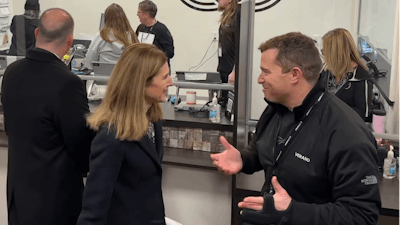 Verano
Multi-state cannabis operator Verano Holdings yesterday celebrated the commencement of adult use cannabis sales in Connecticut at the company's Zen Leaf Meriden dispensary.
At an opening day event, Verano welcomed Lieutenant Governor Susan Bysiewicz, Department of Consumer Protection Commissioner Michelle H. Seagull, Social Equity Commissioner Paul Robertson, Meriden Mayor Kevin Scarpati and other distinguished guests to commemorate the end of cannabis prohibition in Connecticut.
"Legal cannabis in Connecticut will have a positive impact on the economy and local communities, and we're honored to celebrate this moment in the Constitution State," said George Archos, Verano Founder and Chief Executive Officer. "Our Verano, CTPharma and Zen Leaf teams are proud to stand with Connecticut residents in celebrating the end of cannabis prohibition. Thank you to Governor Ned Lamont, the Department of Consumer Protection, local communities, our team members, medical cannabis patients and advocates for making this historic day in Connecticut a reality."
Along with the Company's Zen Leaf Meriden dispensary, Verano's Connecticut operations include CTPharma, a state-of-the-art, 217,000 square foot cultivation and processing facility in Rocky Hill, and Caring Nature in Waterbury, a medical dispensary that will soon commence adult use sales under the Zen Leaf retail banner.
Verano's portfolio includes 14 U.S. states, with active operations in 13, including 14 production facilities with more than 1,000,000 square feet of cultivation capacity.