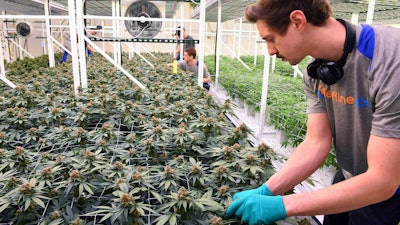 Scott Takushi/Pioneer Press via AP, File
ST. PAUL, Minn. (AP) — The Minnesota Legislature embarked on a path toward legalizing recreational marijuana for adults Wednesday when a legislative committee held the first hearing of the year on a bill that backers say is designed to avoid the pitfalls experienced by states that have already legalized it.
The bill is an updated version of one that passed the Minnesota House in 2021 with some bipartisan support but died in the state Senate, which was then under Republican control. Now that both chambers have Democratic majorities, sponsors say they are confident they can put the bill on the desk of Democratic Gov Tim Walz, who has pledged to sign it.
The House commerce committee approved the bill on a voice vote and sent it to the next of what are expected to be a dozen committees in the chamber that will scrutinize the bill. It faces a long journey in the Senate, too.
"Minnesotans are ready. Cannabis should not be illegal in Minnesota," said the lead author, Democratic Rep. Zack Stephenson, of Coon Rapids, who chairs the committee. "Minnesotans deserve the freedom and respect to make responsible decisions about cannabis themselves, Our current laws are doing more harm than good."
President Joe Biden's announcement in October that that he will pardon thousands of people convicted on federal charges of simple marijuana possession has given a new impetus to legalization effort in states across the country. Maryland and Missouri legalized adult-use cannabis via ballot measures in 2022, making a total of 21 states that, plus the District of Columbia, have legalized recreational marijuana, according to a tally by the National Council of State Legislatures.
Legal sales began Tuesday in Connecticut. New York's first licensed dispensary opened two weeks ago. Voters will decide March 7 whether to legalize it Oklahoma.
Stephenson called his bill a "Minnesota-specific model" that draws lessons from the mixed experiences of other states that have tried to replace the illicit marketplace for cannabis and related products. And he said it includes "a robust expungement program" so that people convicted of nonviolent marijuana offenses, who are disproportionately people of color, can move on with their lives.
The plan's chief architect is Democratic former House Majority Leader Ryan Winkler, who shepherded it through three years of development before the House passed it in 2021. Now out of office, he is the volunteer chairman of the MN Is Ready Action Campaign, which hopes to bring it across the finish line.
"The biggest policy goal of the bill is to shift an illegal marketplace into a legal, regulated marketplace," Winkler said at a briefing for reporters Tuesday. "The state is not looking to raise huge amounts of money from this cannabis market."
Winkler said backers have learned from problems experienced by other states, such as California and Oregon, where high taxes and tough regulations have complicated efforts to develop functional legal marketplaces for cannabis and perpetuated illicit sales of cheaper illegal products, while making it hard for small growers to make a profit.
Retail marijuana sales would be subject only to an 8% tax, in addition to Minnesota's existing sales tax, which is about 7% depending on the community. The idea is to just cover the costs of regulating cannabis, he said, not to generate revenues for other governmental programs.
"It's very easy, as we've seen in other states, for a significant illicit marketplace to continue if taxes are too high or regulations are too unwieldly," Winkler said. "So we're trying to avoid the big mistakes made in places like California where they basically cemented in huge illegal marketplaces."
Critics of the plan testified that it would lead to more substance abuse in Minnesota with serious social and public safety consequences. Representatives of counties and cities urged the committee to ensure that local communities will have the power to regulate sales of cannabis, as they do for alcohol and tobacco.
Ryan Hamilton, a lobbyist for the Minnesota Catholic Conference, testified that for every person harmed by the war on drugs who gets redemption from expungement, "countless children, adolescents, and vulnerable adults" will be harmed by the normalization of drug use.
"No amount of regulation can curtail the damage that today's high-potency recreational marijuana will do to Minnesota families and our quality of life," Hamilton said.
Republican Senate Minority Leader Mark Johnson, of East Grand Forks, is urging Democrats not to rush the process.
"We need to hear from law enforcement, employers, addiction counselors, educators, and others who have concerns about legalizing marijuana," Johnson said in a statement last week. "We know that even small changes in this area of law can lead to huge changes in the market and in people's practices. We don't take the risks that marijuana poses to youth, minorities, and the vulnerable, lightly."