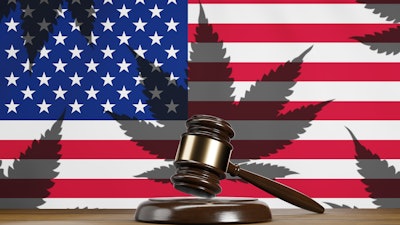 iStock
The Justice Department on Friday launched an application for eligible individuals to receive certificate of proof that they were pardoned under the Oct. 6, 2022, proclamation by President Biden. On Oct. 6, 2022, President Biden announced a full, unconditional and categorical pardon for prior federal and D.C. offenses of simple possession of marijuana.
The pardon lifts barriers to housing, employment and educational opportunities for thousands of people with those prior convictions and President Biden directed the Justice Department to develop a process for individuals to receive their certificate of pardon.
The online application will be available on the Office of the Pardon Attorney's website: Application for Certificate of Pardon. The web form allows eligible persons to submit documentation and receive a certificate indicating the person was pardoned on Oct. 6, 2022, for simple possession of marijuana.
The pardon, effective Oct. 6, 2022, may assist pardoned persons by removing civil or legal disabilities — such as restrictions on the right to vote, to hold office or to sit on a jury — that are imposed because of the pardoned conviction. The application released today may also be helpful as proof of pardon for those who seek to obtain licenses, bonding or employment. As President Biden said at the time of the proclamation, his action intends to "help relieve the consequences arising from these convictions."
Those who were pardoned on Oct. 6, 2022, are eligible for a certificate of pardon. Consistent with the proclamation, to be eligible for a certificate, an applicant must have been charged or convicted of simple possession of marijuana in either a federal court or D.C. Superior Court, and the applicant must have been lawfully within the United States at the time of the offense. Similarly, an individual must have been a U.S. citizen or lawful permanent resident on Oct. 6, 2022.
Those who were convicted of state marijuana offenses do not qualify for the pardon.