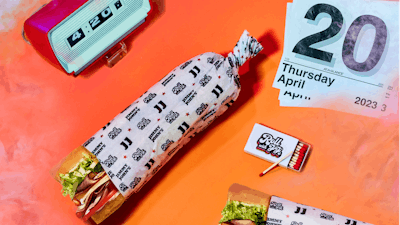 Jimmy John's
Jimmy John's will offer a limited-edition Munchie Crusher sandwich in celebration of cannabis holiday 4/20. The online and app exclusive features turkey, provolone & avocado spread, cucumbers, lettuce, tomatoes, sliced pickles and extra oregano-basil & mayo to satisfy even the biggest appetite.
The restaurant recommends 4/20 enthusiasts top their sandwiches with their favorite flavor of Jimmy Chips to enhance their munchie crushing experience and is offering chips for free with the promo code FREESIDE with any Regular or Giant size sandwich.
"Jimmy John's bold and irreverent personality allows us to have some fun in the 4/20 space, which not all brands can do," said Darin Dugan, Jimmy John's Chief Marketing Officer. "We're proud to satisfy the cravings of those participating in the day's festivities - whether it's on 4/20 or any other day of the year."
Jimmy John's is also opening its doors for an in-person event featuring limited-edition Jimmy John's sandwich wrap rolling papers, a DJ, free swag and the opportunity for "Roller to the Stars" Ranagade PerRana to wrap their sandwich.