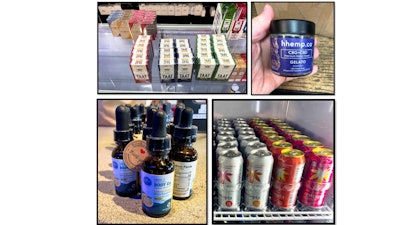 Washington State Liquor and Cannabis Board
Washington State's Liquor and Cannabis Board (LCB) on Friday released new regulations that force businesses to stop selling THC products if they don't hold a valid cannabis license.
The rule changes include the sale of any products with a detectable amount of THC, with violators subject to criminal sanctions.
According to Justin Bedford, regulatory analyst at cannabis compliance software outfit Simplifya, the impact on cannabis industry stakeholders should not be understated.
"Though this change is bad news for non-LCB licensed retailers who have legally sold these products for years under the FDA's 2018 Farm Bill, the change essentially gives unilateral control of all hemp-derived THC product sales to licensed cannabis businesses, which is great news for cannabis stakeholders in the state," he says.
The move allows businesses with an LCB license to regain near sole possession of a large market of consumers who previously could purchase products at grocery stores and gas stations across the state. Now, these transactions must occur exclusively at cannabis dispensaries.
The LCB also outlawed the production, processing, manufacturing or sale of any synthetically derived (or completely synthetic) cannabinoid, with an exception for any product approved by the FDA. The LCB specifically identified K2, Spice and Bath Salts. However, while it may seem like the state is trying to end the sale of synthetics, the regulatory change may have a larger endgame.
"Though one of the main intentions of this regulatory change is to curtail sales of cannabis synthetics, it seems that the biggest aim is to bolster the [Washington State] cannabis industry by supplying it with a new flood of potential consumers," Bedford says.
Recreational sales in the state's cannabis industry contracted from 2021 to 2022, leading to the first period that the industry didn't experience yearly growth. A report in the Seattle Times says cannabis sales totaled $1.4 billion in fiscal year 2022, down from $1.5 billion the year prior.
According to Bedford, the legal change will undoubtedly lead to the recapture of a large market of consumers who otherwise would have no reason to contribute to the state's cannabis industry.
The CBD industry, namely manufacturers and retailers, will feel the largest potential ramifications of the rule change because most of the products sold by unlicensed retailers are CBD products derived from hemp.
"The U.S. hemp-derived CBD product market has matured into a multi-billion dollar industry, and Washington is a large contributor," Bedford says. "Though it is possible to isolate CBD from a hemp plant and create a hemp-derived product with no trace of THC (which would still be legally salable for these unlicensed businesses), the majority of products currently sitting on shelves in these businesses do have trace amounts of THC in them."
Bedford adds that it could prove difficult for retailers to pivot away from CBD sales, which may lead to some hard decisions. "Many businesses that sell these CBD products will likely look to partner with existing LCB-licensed cannabis businesses so they aren't sitting on inventory that they're no longer allowed to legally sell."
The LCB did specify that cannabis health and beauty aid products, as well as those approved by the FDA, like hemp seed and hemp seed oil, are exempt from the licensing mandate.
Cannabis Equipment News reached out to the LCB, but the agency has not yet responded to our request for comment.