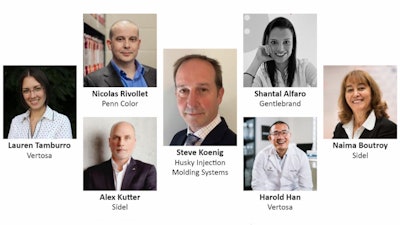 Doylestown, PA – Penn Color and six packaging experts teamed up to present a CBD/THC beverage packaging webinar, "Boosting Brand Equity of CBD/THC Beverages In An Increasingly Crowded Space."
The webinar was intended for CBD/THC beverage brands who already have a great product, and who are looking for an equally great package to differentiate in a rapidly growing but overcrowded market. Three key "how to" questions were addressed:
How to help build greater brand equity by standing out among other beverages
How to delight consumers with the experience of consistent & predictable potency
How to present the best possible sustainability profile
The webinar was moderated by Lauren Tamburro, VP of Research and Development, Vertosa. The speakers represented all the critical elements to successfully package CBD/THC products in PET:
Among their insights:
How does PET package design freedom support brand success?
How will colors & effects contribute to the design of a great package?
What makes PET the package of choice for beverages?
What about the sustainability of PET packages?
Do PET packages work for cannabinoid beverages?
How do I make my PET package project a success?
Packaging designers, marketing managers, executives of brand owners and beverage companies, and packaging engineers may still benefit from this insightful webinar, available free at https://bit.ly/CBDBeverageWebinar.