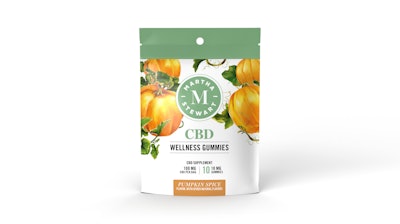 Canopy Growth
Martha Stewart CBD unveiled the latest flavor in its CBD portfolio – Pumpkin Spice CBD Wellness Gummies.
These limited-edition gummies continue the expansion of the Martha Stewart CBD gummies lineup, which features flavors, including Tropical Medley CBD Wellness Gummies and Harvest Medley CBD Wellness Gummies.
"The Pumpkin Spice flavor signifies the beginning of the fall season and I wanted to capture this delicious moment with our CBD gummies," said Stewart. "It's always important and a pleasure to expand our offerings and continue to make CBD convenient and tasty to enjoy, every day."
Debuting this week for $34.99 on marthastewartcbd.com, the limited-edition Pumpkin Spice CBD Wellness Gummies were developed by Martha herself, and each gummy features10mg of pure CBD isolate.
The new flavor is part of Martha Stewart's continued partnership with Canopy Growth.