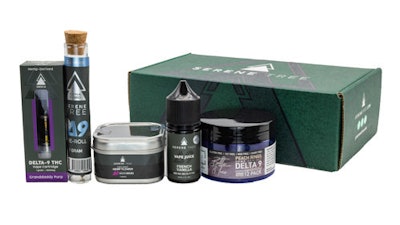 Serene Tree
Serene Tree is now offering what it calls the first Delta-THC based subscription box for consumers to try and tailor specifically to their needs.
This subscription box will be backed by Serene Tree's quality, offering consumers various products such as tinctures, vapables, smokables and edibles.
The company said the most significant difference between Delta-9 compared to its predecessors is its psychotropic effects on consumers while still landing within the legal gray area of acceptability. Delta-9 THC is a cannabinoid found within the cannabis plant and is somewhat cost-effective to extract and simple within its processes. Though it is commonly derived from marijuana plants, today's bioengineering advancements have given consumers choices with both hemp and cannabis-based Delta-9.