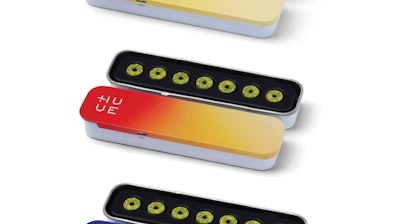 HUUE
HUUE, a company that produces fresh-compressed, infused cannabis pucks, today announced the launch of its first three effects, "Get Sh*t Done," "ROFL," and "Un(wine)," now available in Massachusetts.
HUUE said its pre-dosed pucks are ready to vape or smoke, and packaged in child-resistant and odor-proof tins. The company said the pucks can be used with nearly any dry-herb vaporizer on the market.
HUUE is entering the Massachusetts market with its flower pucks from cultivators like Resinate and The Heirloom Collective. Each HUUE tin contains seven infused pucks that can be used individually in nearly any dry herb vaporizer, bong or glassware. Currently available at select retailers in Massachusetts, with more locations coming soon.