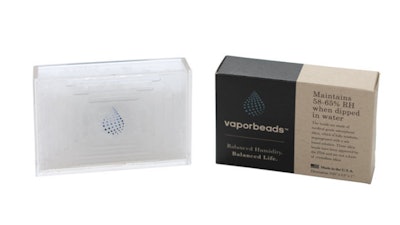 Cannador
Cannador, a maker of cannabis storage and humidity control products, has launched the Humidity Bead System, a micropore silica bead mixture combined with a salt-based solution that founder Zane Witzel originally licensed and then acquired before rebranding it as VaporBeads.
"I loved how well the beads worked and knew it could be modified to suit both the relative humidity ranges in cigar and cannabis humidors by tweaking the silica makeup," he said. "Plus, it's sustainable in that it only requires adding water every two to three weeks to maintain the desired RH, and after two years of use, we have a recycling program to change out the beads instead of making customers purchase a brand new VaporBeads case."
Silica Gel beads hold more moisture per its weight, thereby yielding better performance for relative humidity control. This makes it easier for the user to control the humidity over time using less beads.