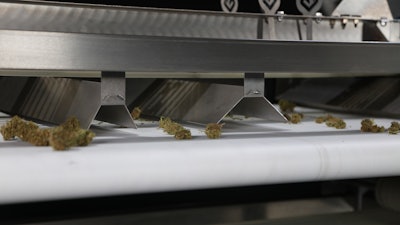 This past year saw a savage landscape of increased competition: the big players getting bigger, and prices free-falling in select markets.
We also saw the rising expansion of MSOs into emerging markets, along with headway being made in many states with regard to legalization. The U.S. cannabis market remains fragmented by differing state regulations, as well as the complicated banking and 280E tax issues hanging over the heads of business owners.
As we near the end of Q4, many businesses are dialing in expansion plans or pivoting to address shortfalls in profits from the current year, and making production, equipment and workflow changes for the new year.
With competition becoming stiffer and margins thinner, taking a look at how to process faster (and better) while maintaining quality and consistency is essential. Doing a comprehensive end-of-the-year equipment audit is a good way to objectively identify areas that could improve throughput. It will also help identify bottlenecks that may be slowing down processing. The three areas businesses need to consider carefully are quality control, efficiency and market shifts.
Both consumers and secondary processors are demanding the highest-quality product at the best price. In today's market, you cannot put out a subpar product and expect to survive -- there is simply too much high-quality product out there right now. To meet the standards that the current competitive market demands, you need to pay close attention to quality control, particularly mitigating product contamination risks, retaining terpene integrity by protecting trichomes, and assuring the look and feel of the flower is as intended -- especially if your end-goal is top-shelf craft flower.
Quality control
The smaller producers who exclusively produce flower for the high-end, discerning cannasseur may want to consider a hybrid solution when integrating efficiency into their SOPs. For example, many companies have shifted to machine trimming to an 80% finish followed by a 20% hand trim and quality assurance (QA) to give the final product the "bag appeal" consumers expect.
Using an 80/20 percent (or 70/30) machine vs. hand trim ratio can give operators the leg-up they need to stay in business by substantially increasing efficiency without sacrificing quality.
Product contamination
If product contamination has been an issue, upgrading to a trimming machine where all plant-touching parts are 316 surgical-grade steel is a smart move.
Ease of assembly and disassembly is also key. The quicker and easier you can thoroughly clean your equipment, the less processing downtime you have. In particular, micro and boutique producers can't afford to lose profits due to this kind of preventable problem. If your equipment is time-consuming and difficult to clean, it's time to upgrade.
Efficiency
The most significant gains in efficiency are typically seen by mechanizing trimming and sorting. If you hope to grow your business in 2022, these are must-haves. Today, trimmers are more sophisticated and can achieve a new level of consistency. For example, being able to program your machine to trim different strains in a way best-suited to their specific bud structure is a huge win that leads to a level of product handling control you don't reach with hand trimming. You can decide exactly how much material you remove and ensure you retain as much biomass as possible, increasing your profit margins. Also, machines have proven to improve trichome retention. In short, the sticky fingers issue falls by the wayside with the scissors.
Ultimately, producers at every scale can benefit from the efficiency and quality control provided by automated trimming. It's possible to cut the cost of post-harvest processing by 30%-50% via automated trimming alone. The gains you see will vary slightly depending on labor costs in different regions and states, but the benefits are undeniable.
Sorting
Adding sorting to the production line makes it quick and painless to get different sizes and grades of material to the next processing station. If you are adding new SKUs in the coming year, sorting could significantly ramp up efficiency.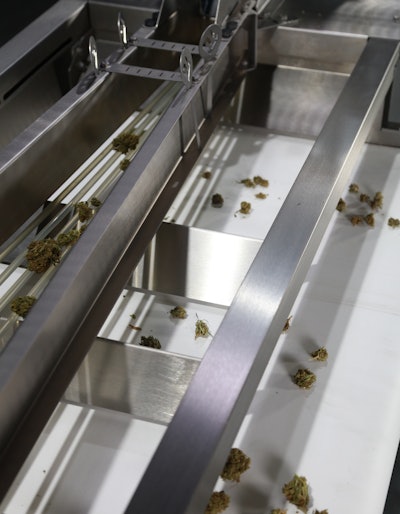 Many businesses are diversifying their product offerings in an effort to compete and insulate themselves from fast-moving market changes. Mechanized sorting enhances quality by minimizing the amount of time your raw material is exposed to an environment where it is difficult to regulate temperature and humidity. The latter is a major factor in biomass weight variance from post-drying to consumer-ready packaging. By automating sorting, you're getting more bang for your buck while eliminating a very tedious and taxing element of processing.
Conveyors
The way you move raw material from one processing station to another should be another consideration for your audit. Any time you have a worker handling the product, the risk of contamination and degradation goes up. You can significantly enhance throughput and mitigate these risks by adding conveyors to move the product between stations or machines. If you are spending too many employee hours moving product between stations, this is a smart upgrade.
Once you go this route, you're getting one step closer to the kind of end-to-end, large-scale processing we see in the traditional agricultural sector. For large operations, this is essential. At scale, it becomes necessary to automate as much of the process as possible. It can get complicated, with different grades and sizes of material being funneled into various processing streams, and it's often advantageous to have a custom-built automated solution for such cases.
If you operate a large MSO, one clear advantage is your ability to standardize operating procedures across states. Standardized operations assure final product consistency and allow managers and production line workers to be interchangeable among facilities.
The industry is rife with challenges, but with them comes opportunity. As we move into 2022, we will undoubtedly witness the expansion of automation, with more sophisticated end-to-end, interconnected systems leading the way. The equipment you use is the backbone of your entire business. It dictates quality, efficiency, workflow, facility atmosphere and safety, as well as job stability for employees.