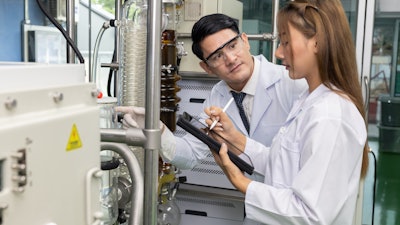 iStock
In the rapidly evolving cannabis industry, integrating cutting-edge automation tools and equipment is essential for maintaining a competitive edge. However, the thought of potential mechanical or electrical breakdowns can be daunting, but these problems could lead to high costs and expensive delays. To help you save money and optimize productivity, here are five essential preventative maintenance measures to ensure your cannabis operation runs smoothly.
1. Pre-empt Problems with Knowledge, Preparation
Efficient equipment operation starts with a thorough understanding of your machine's technical specifications, including power requirements and additional components needed for operation. For example, our MCF1 (semi-automatic) and ACF1 (automatic) vaporizer filling machines require a filtered compressed control air system and a 120 VAC power source (outlet). Reading the user manual and watching instructional videos will equip your team with the necessary expertise to handle potential challenges, such as leaks, clogs or hardware malfunctions. Also, keep the customer support contact information readily available for quick assistance.
2. Look for Design Elements with Easy Maintenance
Select equipment with simple and user-friendly designs that facilitate easy component cleaning. Ensure the machine allows quick component switching to accommodate various materials and devices, minimizing product loss during turnover. Efficient equipment maintenance significantly influences your bottom line, especially when filling hundreds of vape devices or pre-rolls, for example.
3. Disrupt Disruptions with Comprehensive Testing
To prevent disruptions during production, plan and conduct multiple tests with new devices and oils. Understanding the recommended settings and limitations of your equipment allows you to tailor it for optimal consistency and viscosity of your products. Run preliminary tests to fine-tune timing and flow settings before processing large quantities of cannabis products.
4. Welcome a Warranty for Added Insurance
A warranty is essential for any significant purchase, and cannabis equipment is no exception. Ensure your machinery has a suitable warranty, preferably covering at least one year. A reliable warranty provides peace of mind, assuring you that your vendor will promptly handle any defects or required repairs.
5. Tap Your Team for Training, Support
The availability and responsiveness of customer support are crucial when choosing a cannabis equipment provider. Opt for a manufacturer with a support and service team in the U.S., which ensures quick contact for assistance or on-site visits. Working with a manufacturer who provides fast part shipping within the country is vital, avoiding the hassle of waiting several weeks or months for the part to come in from a different country. Ensuring that your team receives comprehensive training on operating the equipment safely will also enhance efficiency and minimize downtime.
Leveraging preventative maintenance practices is essential for maximizing the performance and longevity of your cannabis equipment. You can confidently navigate potential challenges by being proactive, conducting comprehensive tests, understanding warranties and selecting supportive vendors. Implementing these preventative measures will save you money, reduce downtime and keep your cannabis operations running smoothly, ultimately contributing to your business's long-term success.
Vlad Valme has spent almost a decade working in sales, packaging, product development and sourcing in the cannabis industry. Today he specializes in vaporizer device filling and capping equipment at Thompson Duke Industrial, where he manages the company's Alliance Partner Program and Southern California Operations to help processors increase efficiencies. Watch his episode of the Cannabis Equipment News podcast, "Vape Filling is About Accuracy, Not Speed."